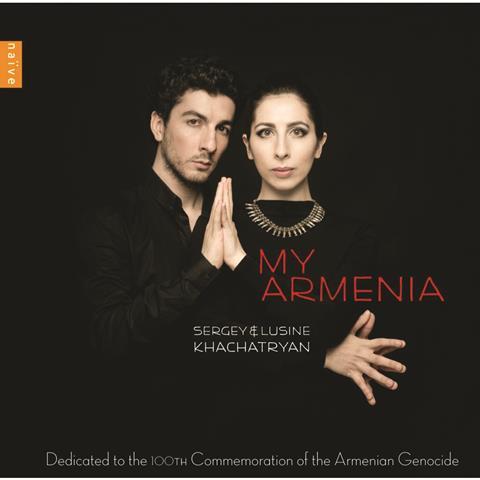 THE STRAD RECOMMENDS
The Strad Issue: February 2016
Description: Leading Armenian players lovingly perform the music of their country
Musicians: Sergey Khachatryan (violin) Lusine Khachatryan (piano)
Composer: Babadjanian; Bagdasarian; Khachaturian; Komitas; Mirzoyan
This recording, 'dedicated to the 100th commemoration of the Armenian Genocide', is presented by violinist Sergey Khachatryan, winner of the Queen Elisabeth and Sibelius competitions and the leading Armenian musician of his generation. Performing with his sister, pianist Lusine, who also plays a number of solo works on this disc, Khachatryan brings his glorious tone to the music of his homeland.
There is a school of Armenian composition, informed by folk and religious music, that stretches back to the mid-19th century, although its founder Komitas Vardapet, who suffered during the events of 1915, is the only composer here to have written in that century. His Krunk ('The Crane'), a national song, opens the recording and sets the tone with its lushly melodic, distinctly Eastern violin lines. Of the music that follows, Khachaturian's Sabre Dance – spikily dispatched by Khachatryan – is by far the most famous, but there is much else on the disc to enjoy: a second, sotto voce miniature from Khachaturian's ballet Gayaneh, Edvard Mirzoyan's driving work Perpetuum mobile and a brooding Rhapsody by Eduard Ivanovich Bagdasarian.
Sergey Khachatryan's playing is flawless throughout, while the recording is both well balanced and resonant, and together the siblings' love for this music shines through. Only the poorly written (or possibly translated) notes are a disappointment here.
Tim Woodall