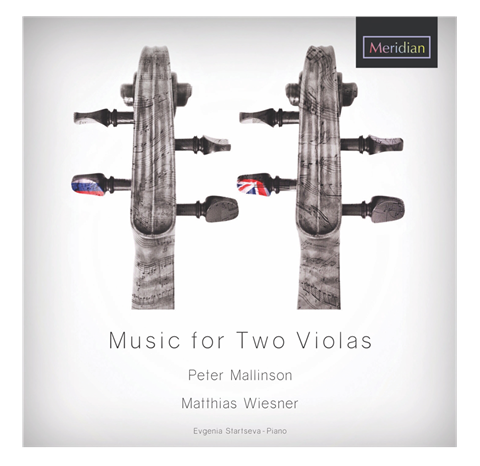 The Strad Issue: June 2017
Description: All roads lead back to Tertis in music for duetting violas
Musicians: Peter Mallinson (viola), Matthias Wiesner (viola), Evgenia Startseva (piano), Oliver Lowe (triangle)
Composer: Jacob, Druzhinin, Rubbra, Prokofiev, Bridge, Pytor Bulhakov, Khatchaturian
Catalogue Number: MERIDIAN CDE 84641
It seems appropriate that two members of the BBC Symphony Orchestra's viola section have set out to explore the repertoire for viola duet. The orchestra's long-time principal, Harry Danks, was an active promoter of music for multiple violas; he premiered the Edmund Rubbra work included here at a concert given by the whole section to celebrate the centenary of Lionel Tertis's birth. Better known in its (original) version for solo viola, it is even more effective in this expanded form. Mallinson and Wiesner, distinctly placed within a warm acoustic, relish its irregular rhythms while wistfully evoking the sound of medieval fiddles. Danks was co-dedicatee – along with the late John White – of Gordon Jacob's Sonatina, a delightful example of that most viola-friendly composer's craft, wittily realised. Bridge's soulful Lament, given a nicely understated reading, also has a Tertis connection, having been premiered by the great man alongside the composer.
Druzhinin's Sinfonia a Due follows the polystylistic tendencies fashionable in the post-Shostakovich Soviet Union, featuring tongue-in-cheek tangos, mean-sounding minuets and sundry special effects such as the toneless pizzicatos with which it begins and ends. It is rather rambling but fun, and here the players hold it convincingly together. As for the Borisovsky arrangements, both violists indulge in some swooning 3rds in the Barcarolle, play catch-me-if-you-can in the Waltz's imitative phrases and are altogether virtuosic in the dances from Romeo and Juliet. There's plenty more where this music came from, so hopefully a sequel will be forthcoming; how about reprising that Tertis centenary concert?
Carlos María Solare