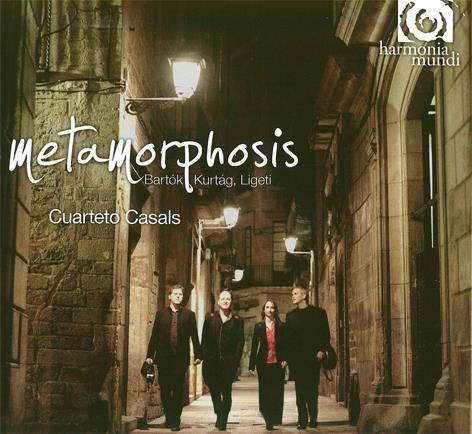 The Strad Issue: January 2010
Musicians: Casals Quartet
Composer: Bartók, Ligeti, Kurtág
A thought-provoking programme presents Hungarian composers of two generations with much in common: an uncanny ear for string sonority, a tendency towards introversion and a capacity for civilised barbarity. Ligeti and Kurtág show Bartók's influence but not in an inhibiting way.
The Casals Quartet's tone is a bit edgy in the Bartók Fourth Quartet – hard to avoid, although the Keller Quartet (Apex) succumbs much less. The Spaniards take the central movement a little slower and sustain it very well, although I prefer the Keller's cellist; and in the Allegretto some of the Casals's slapping 'Bartók' pizzicatos come off better than others.
Recording quality on the new disc is crucial, slightly dead and dry. In the tiny Kurtág pieces, concentration is unflagging, technical challenges are met, delicate effects abound and soft passages are amazingly quiet; but the Keller players (ECM) are just as quiet, while adopting a much wider dynamic range, and their recording has more presence.
Competition is less fierce in the Ligeti, where the Casals players are wonderfully droll in the seventh section (although the work plays continuously, the eight 'movements' are separately banded). They maintain control, surpassing their high standard in Bartók and Kurtág with fine judgement of Ligeti's kaleidoscopic moods.


TULLY POTTER