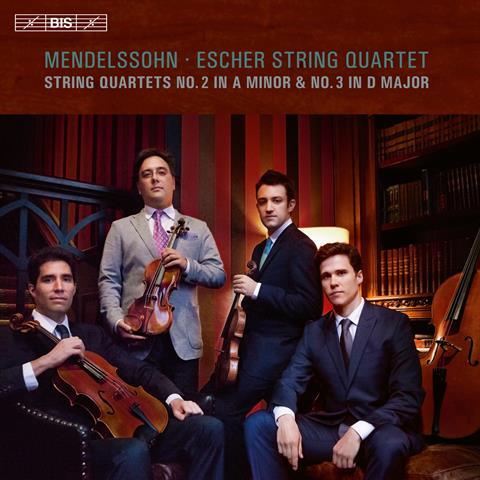 THE STRAD RECOMMENDS
The Strad Issue: December 2015
Description: Intimacy and unanimity as the Escher's Mendelssohn cycle continues
Musicians: Escher Quartet
Composer: Mendelssohn
Even if you're no fan of Mendelssohn, you'll probably – to borrow Beecham's quip about the English not liking music – like the noise it makes on this disc. In its own right, the playing of the Escher Quartet is marked by the finish of its ensemble playing, keenly matched articulation, unanimous phrasing and mood, as well as the balancing of rhythmic definition with melodic shaping. This all goes hand in hand with a recording that captures a blended but detailed soundstage.
The slow opening of the A minor Quartet's first movement and the following Adagio, with its searching fugue, are gorgeously intimate but unsentimental, while the pizzicato accompaniment to the Intermezzo has an aptly serenade-like quality. By contrast, the finale contains darker dramatic overtones in the first violin's tragic recitative-like episodes and its stormy tremolo accompaniment.
There's virile playing in the D major Quartet's first movement and a poised, gently ambulating pulse to the third-movement Andante. The pace of the scherzo from the op.81 Four Pieces is unusually measured, though, making it difficult to capture that sparkling 'leggiero' quality. Nevertheless, throughout, what the Escher players point up to striking effect is the skilful detail of Mendelssohn's part-writing, which is entirely admirable for its own sake.
EDWARD BHESANIA