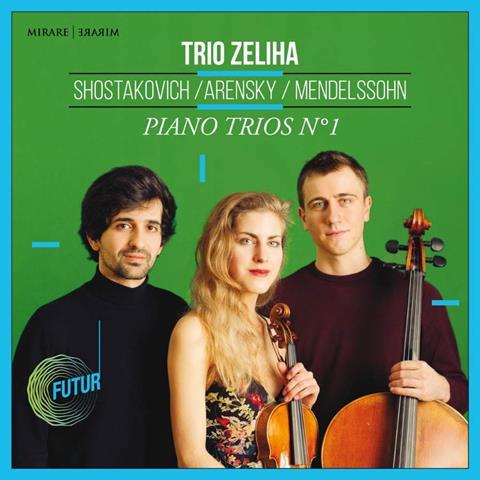 The Strad Issue: January 2021
Description: Newly formed French trio demonstrates its distinctive drama and beauty
Musicians: Zeliha Trio
Works: Shostakovich: Piano Trio no.1 in C minor op.8. Arensky: Piano Trio no.1 in D minor op.32. Mendelssohn: Piano Trio no.1 in D minor op.49
Catalogue number: MIRARE MIR522
Three first piano trios from an ensemble making its own debut recording: conceptually this is nice, but what most strikes me across this programme is the extent to which the Zeliha Trio combines faithfulness to the score and high technical polish with its own distinctive sound. These three musicians clearly know who they are, which is all the more impressive as they formed as recently as 2018.
The opening Shostakovich Trio of 1923 displays the trio's colours vividly. Composed when Shostakovich was 16, this piece's romance is spiced by sudden switches of mood and texture that prompted one of his teachers at the Leningrad Conservatoire to complain at his 'obsession with the Grotesque'. The Zeliha's impeccably blended tone is a beautiful one, delivered with slenderness and grace, the 'Grotesque' initially suggested merely by pronounced portamentos delivered with a straight-toned eeriness. Beauty endures even as the first crescendo builds, meaning you're caught entirely unawares by the sharp, acidic force with which violinist Manon Galy and cellist Maxime Quennesson then suddenly slice through the air at the first fortissimo. Clever.
There are further joys: the Zeliha's vibrantly singing, lucid-textured Arensky; the stirring Mendelssohn first movement and its captivatingly, tenderly hesitant Andante; and always the pearly, precise articulation from pianist Jorge González Buajasan. Add lovely natural balance to the crystalline recording, and repeated listening is a must.
CHARLOTTE GARDNER