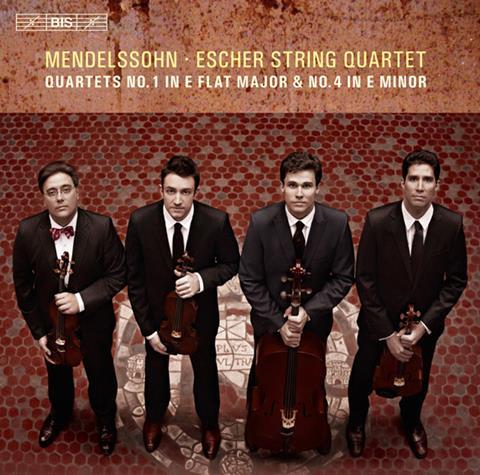 The Strad Issue: September 2015
Description: The Escher embarks on a fine new Mendelssohn quartet survey
Musicians: Escher Quartet
Composer: Mendelssohn
Following its recent lithe, expressive recordings for Naxos of the Zemlinsky quartets (reviewed in November 2013 and October 2014), the Escher Quartet launches the first in a three-disc series of Mendelssohn for BIS. As well as the First and Fourth quartets, this disc includes the early Quartet in E flat major. Written when Mendelssohn was aged 14, it's a forgivably conventional work but charming nonetheless, and the young composer was brave enough to attempt a double fugue in the finale. The Escher is winning here, playing with charm and lyricism, but the beauty runs deeper: under the surface lie unwavering ensemble playing and finely tuned balancing. The same qualities suffuse the whole disc.
The Escher exudes a warm tone in the introduction to op.12's first movement, while the ensuing Allegro has a naturally pliable momentum. The second-movement Canzonetta is delightfully airy but its più mosso section – a scherzo first for the two upper voices and then for the two lower ones (the latter, unbelievably, being yet more tightly sprung) – makes the hair stand on end. No surprise, then, that the scherzo proper of the Fourth Quartet is also dispatched with thrilling precision, while not precluding subtle shading of colour. The first movement of the E minor has dramatic urgency and the third movement a winning 'song without words' quality. There's not a muddy texture, an imbalanced chord or a directionless phrase on the disc, and the recorded sound is ideally rich yet intimate. A deeply rewarding release, then, and by any standards a distinguished one.
Edward Bhesania