The Strad's editor Charlotte Smith introduces the March 2020 issue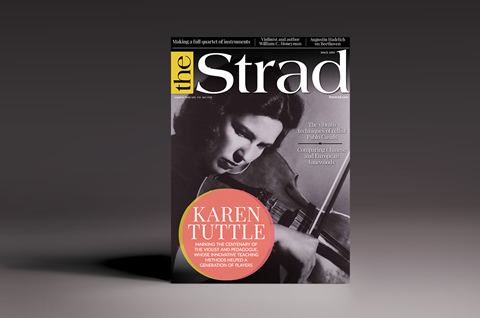 For violists of a certain vintage Karen Tuttle is revered as a pioneer. One of the 20th century's great musical educators, occupying that same select circle as Dorothy DeLay and Paul Rolland, Tuttle was able not only to solve myriad common technical issues, but also to tailor her approach to each individual. A gifted performer with a sparkling early concert career, Tuttle developed a special interest in increasing freedom and eliminating pain while attempting to eradicate tension in her own playing during her studies with William Primrose. As the years went by she became increasingly involved in education, holding professorships at the Curtis and Peabody institutes, Juilliard and the Mannes School of Music. On page 28 Carlos María Solare marks the 100th anniversary of her birth with an examination of her remarkable career and legacy.
If Tuttle revolutionised playing methods for a generation of violists, the techniques of Pablo Casals were just as groundbreaking for cellists. Despite having very few students throughout his career, Casals passed on his ideas to a select few – notably his colleague Diran Alexanian and favourite pupil Maurice Eisenberg – who in turn spread the word through their teaching manuals. On page 40 Oskar Falta explores Casals's approach to vibrato and the way this changed long-held attitudes about the 'right' way to perform.
In this issue we also examine a potential new source of tonewood – the forests of China. For makers around the world, European timbers are generally considered to be superior in terms of their acoustic properties, yet China's woodlands are filled with barely tapped high-quality spruce and maple. On page 46 Xue Peng presents the fascinating results of an experiment comparing European and Chinese tonewoods – the first step in challenging a long-held, and perhaps mistaken, belief.
Charlotte Smith editor
Email me at thestrad@thestrad.com or tweet @TheStradMag