The Strad's editor Emma Baker introduces the June 2023 issue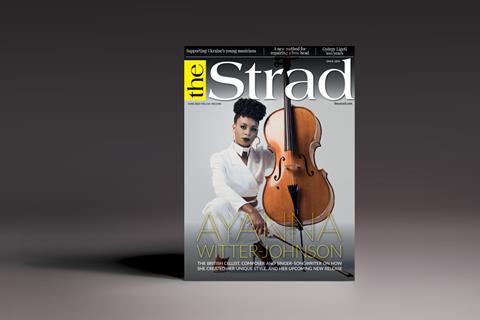 Our cover star this June is a unique British artist: the cellist, composer and singer-songwriter Ayanna Witter-Johnson. With her high-level grounding in classical composition and an ear for myriad musical influences, she has a style like no other. On page 28 she speaks to Toby Deller about her upcoming plans, which include a new release this month and a performance at the Edinburgh Festival with the LSO Percussion Ensemble in August.
We also celebrate the compositional giant György Ligeti, who was born 100 years ago in May. Ligeti's music fuses an uncompromising modernism with extraordinary, ear-bending sounds and structures that give many of his works immediate appeal. Film director Stanley Kubrick was one high-profile admirer who famously used Ligeti's music in his seminal 2001: A Space Odyssey. Ligeti also contributed important works to the string quartet canon and on page 48 Peter Quantrill speaks to current artists about the music, including their plans for a tribute Ligeti Day at Aldeburgh this month.
Meanwhile, in the wider world, the war in Ukraine shows no sign of ending. Among all the personal tragedies caused by the conflict, countless young musicians have been displaced from their homes and studies. On page 36 Rita Fernandes examines some of the programmes that have been set up to allow talented young Ukrainian string players and others to continue their education outside their country, ensuring that there will be a future for them and for music back home when the war ends.
In lutherie this month, on page 42 Gennady Filimonov uncovers the identity of a mysterious 19th-century 'Russian nobleman' whose collection of instruments included three Stradivari cellos, and on page 54 luthier Nigel Harris concludes his deep-dive into how the shape of archings can affect the tone of an instrument.
Emma Baker editor
Email me at thestrad@thestrad.com or tweet @TheStradMag