The Strad's 2021 Calendar celebrates the work of Dextra Musica, the Norwegian foundation that has built up a fine collection of historical and contemporary instruments over the past 15 years. All the instruments are in daily use, being loaned out both to top soloists and to up-and-coming young players. Some of the treasures include Stradivari's golden-period 'Rivaz, Baron Gutmann' violin, now played by Eldbjørg Hemsing, the 1744 Guarneri 'del Gesù' used by Henning Kraggerud, and the 1783 Guadagnini cello once owned by Rostropovich, which was sold for a record £1.93 million in 2018.
Francesco and Giovanni Grancino viola c.1665
The Grancino family were arguably the most sophisticated violin makers outside Cremona in the 17th century. The work of Giovanni Battista can achieve the highest levels of elegance and craftsmanship, drawn from an original and distinctive design. In his early career he worked with his brother Francesco, and the most striking product of their partnership was their unique production of at least six contralto violas, of which this c.1665 instrument is a fine example. Made some time before 1670, this remarkable viola predates the earliest Stradivari contralto, the 1672 'Mahler', and the celebrated 'Conte Vitale' Andrea Guarneri viola, also a part of the collection. Only two similar violas survive from an earlier period, by the Brothers Amati and by Gasparo da Salò. The compact but full-arched design arrived at by the Grancinos is a very significant part of the history and development of the modern viola and the eclipse of the old 'tenor' form in the 18th century.
In workmanship and style it is less developed than Giovanni's later output, the scroll a little unevenly cut, and the nicks placed high on the f-holes, but the varnish is most beautiful and wonderfully well preserved, with the depth of colour and texture associated with the best Venetian makers rather than the clear golden yellow associated with Grancino's violins and cellos.
Order your copy of The Strad Calendar 2021 today!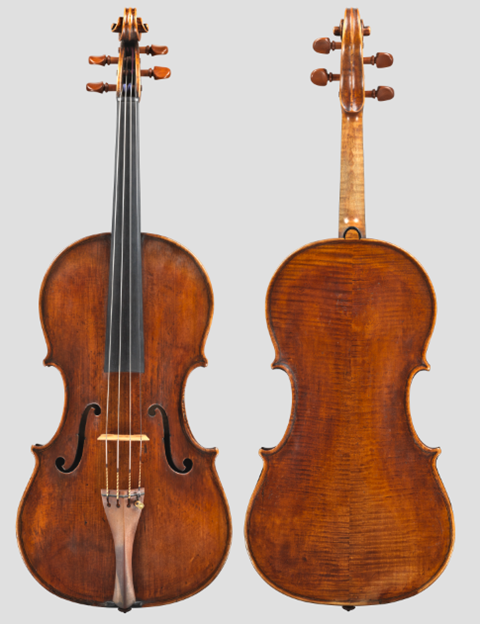 Photos: Richard Valencia