With a price seemingly out of reach at £1.2 million, Andrew Bernardi shares how he convinced a group of investors to help acquire the violin to bring cultural enrichment to audiences in West Sussex, the UK and abroad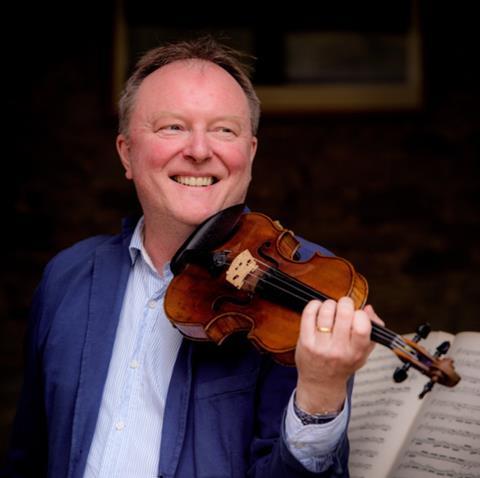 Once, an ordinary day became quite extraordinary for me. I was at an auction house having my violin checked, when I was offered one of the rarest violins in the world – a 1696 Stradivari, which is featured in the book of the top 500 Stradivari violins. The Bernardi Music Group had been looking for this precious Cremonese violin for 25 years, and just from one note of its subtle sophisticated sound, I knew we had to acquire it.
However, this was a Stradivari worth £1.2 million, and I had no time to raise the money before the sale date. I quickly put together a syndicate of business acquaintances and friends to help fund its purchase, sharing my vision for the instrument to help build support. We managed to outbid everyone else, in what we now fondly call the 'white knuckle ride against the clock Hollywood Blockbuster.'
Having a strong vision for the invaluable instrument and how it could be applied towards wider cultural activities was key to encouraging investors to commit. On top of the instrument's value increasing year on year, it was equally important to stress to investors that the Stradivari could significantly benefit both local and international cultural communities. As a result, we created a dedicated high-quality group of investors who committed to the aspiration of uniting people through music. To structure our shareholders, we created a single-asset limited company administered by a highly-skilled lawyer. This structure allows each shareholder to hold a privately tradable share certificate, which allows for easy transfer between other shareholders.
The cultural focus has turned out to be priceless, as the Stradivari is the crux of all we do in Sussex, the UK and beyond. Our Stradivari grants unparalleled expression with a huge variety of timbral colours and a unique breadth in quality, conveying the essence of our music. It has bestowed high value onto our talented group of musicians - as recognised in our Arts Council Award - with local communities rallying to see us and our Stradivari perform, as well as raising great sums for charities such as the Alzheimers Society.
Our Stradivari – renamed the 'Amici Bernardi' Stradivari to reflect the group, the violin's Italian roots and how it brings about friendship through its artistry - has enhanced the cultural landscape of Sussex. Doing so, it has inspired commissions of new works, such as Paul Lewis' Shipley Concerto which recently premiered at the Shipley Arts Festival. It also brings unparalleled depth, colour and meaning to our work. In a wonderful twist of fate, we commissioned the wonderful Great Hills, by Cecilia McDowall back in 2007. It tells the story of Lady Anne Blunt travelling through time within our local community and performing on her own Stradivari for everyone, from the vicar to Hilaire Belloc in his Shipley Windmill. We could not have foreseen that we would similarly be following the same footprints as those described in Cecilia's commission, in what is now the seventh year performing with our Stradivari.
The Stradivari has also taken us far and wide with our smaller group, the Stradivarius Piano Trio. Often touring to Asia, we have attracted overseas interest, as being accompanied by such a fine violin brings mystique and has proved to be an inspiration to colleagues and audiences alike. Our values and roots are expressed through the music performed on our Stradivari, which transport audiences to mesmerising realms of their imagination. As such, we have performed a diverse body of work in a wide variety of contexts, from performing for McLaren and Aston Martin, to travelling to the Greater Bay Area of China, Hong Kong and Macau together with performing in cities such as Guangzhou and Xiamen. We have also performed for the students of Macau University, where we will soon take up residency.
Looking back, acquiring the Stradivari was one of the best decisions of my life. The bedrock for all our work, it has greatly enhanced my mission in life to inspire and connect people, communities and businesses through music. Often, our investors tell us that the cultural benefits and financial returns they see far exceed all their previous expectations. However, the Stradivari and I have only just started on our journey and I look forward to continuing with this fruitful partnership.
The Bernardi Music Group will next be performing at Shipley Arts Festival on 29 August for the opening of the Drew Barn at Warnham Park. Find out more here.
Read: Book review: Gone: a Girl, a Violin, a Life Unstrung
Read: Stolen 'ex-Kym' Stradivarius violin fetches £1.385m at auction
Read: Violinist Min-Jin Kym's 'stolen and recovered' Stradivarius to be sold at auction
Read: 'Is $16 million for a violin too much to pay? Not these days'