In this extract from the July 2021 issue, Andrea Zanrè examines Carlo Bergonzi's unique head craftmanship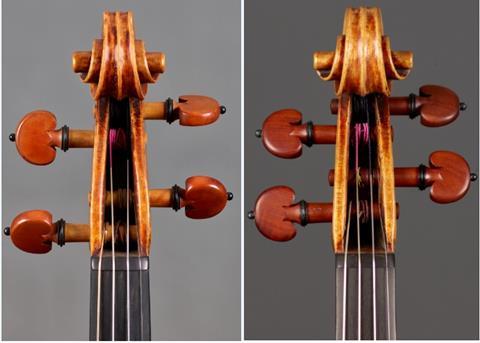 The following extract is from The Strad's July issue cover feature on Carlo Bergonzi's 1735 'Baron Knoop' violin. To read it in full, click here to subscribe and login. The July 2021 digital magazine and print edition are on sale now
Bergonzi's personality stands out overwhelmingly in his heads; this makes it easier to detect his hand in the Stradivari cellos to which he contributed. The profile of the pegbox is curved in a way that is perhaps more influenced by Guarneri 'del Gesù' than by Stradivari himself; in contrast with both of these makers, on the 'Baron Knoop' the throat isn't very open and ends quickly at the level of the second turn of the scroll. Above the pegbox, the well-rounded volute is well dimensioned and ends in a substantial eye; some tool marks remain visible, including a few dots that could be the result of a tracing device. Seen from the front, the volute is less extreme if compared to what is typical for this maker, i.e. the long, perfectly sculpted ears protruding from a very narrow second turn. On the 'Baron Knoop' the proportions are more classical and one doesn't get that impression of a perfectly cylindrical dowel sticking out from both sides of the volute. The scroll is admirably sculpted, although with a slightly more laid-back attitude than the maniacal precision that can be detected in some of his earlier instruments; in later years, the hand of Michelangelo will occasionally appear with its contrasting and spontaneous style, which almost owes more to 'del Gesù' than it does to his father.
Read: Carlo Bergonzi 1735 'Baron Knoop' violin: The Heir Apparent
Read: Carlo Bergonzi was never a wealthy violin maker – but he still used the best-quality maple ever seen
Bergonzi's varnish has a deep, subdued fire which doesn't try to emulate the visual effects obtained by his competitors: perhaps of a softer consistency and richer in oil than either Stradivari's or Guarneri's formulas, Bergonzi's seems to adhere very closely to the wood, without a noticeable sealing layer placed in between. Additionally, it doesn't show much of the abrupt chipping that is more often seen in contemporary instruments, allowing us to presume that the edges of the wear pattern were rapidly softened.
We like to think of the man behind this violin as a modest, determined artist, whose work is exceedingly refined and rare: not more than 50 instruments in total are known. Had he lived into his nineties like Stradivari, the history of Cremonese violin making would probably have been quite different, as there would have been no gap in the transition between his generation of makers and the one after. And yet, dying in 1747, Carlo Bergonzi did survive Stradivari for exactly a decade, the last few years of which were spent in his former employer's workshop, finishing the instruments he had left behind. There's a little irony of fate there, as Bergonzi, in his equanimous way, appears to be stating with his own work that he definitely did not mean to make Stradivaris.
This article was published in the July 2021 Carlo Bergonzi 'Baron Knoop' issue

Micro-CT scanning technology reveals the secrets of the 1735 Carol Bergonzi 'Baron Knoop' violin. Explore all the articles in this issue . Explore all the articles in this issue

More from this issue…