Violinist Simon Blendis shares how a Pietro Guarneri of Mantua violin ended up in his hands, enabling him to explore the the repertoire of its former owner, British salon musician Max Jaffa
In January 2000 I received a phone call out of the blue from a colleague and friend who had been asked by Jean Jaffa, the widow of the late violinist and light-music legend Max Jaffa, to find a buyer for Max's violin. She seemed keen to find someone in this country who she'd be able to hear playing the instrument (so ideally a soloist or chamber musician) and he thought I would fit the bill.
The violin was a 1704 Pietro Guarneri of Mantua, in beautiful condition. Max Jaffa had bought it from W.E. Hill and Son in 1947, and it had apparently been unplayed in a collection for about 90 years before that. I borrowed it for a recital at the Southbank Centre and was instantly smitten. A great instrument doesn't necessarily make playing any easier, but it opens up a whole new world of tone colours and sounds, and having these possibilities on offer enables the player to explore and improve in so many unexpected ways. I returned the violin after the concert, but my head had been turned, and after a little bit of fund-raising I was able to buy the violin from Jean. In 2006, I was able to get the violin certified by Beare's.
Jean and her daughter Lisa would often come to concerts and we became close friends. Jean even came to my wedding in 2002! When Jean died a few years ago, Lisa asked if I would like to take on Max's sheet music library. The bulk of it was a collection of 250 arrangements for violin and orchestra, but there were also two boxes of random sheet music, just whatever had been on the shelves when they started clearing the house.
The opportunity to re-unite violin and music was too good to miss, but it wasn't until the first pandemic lockdown started that I finally found time to go through these boxes and see what was in them. Over the following weeks my wife (who is a pianist) and I explored these treasure troves and discovered a huge number of gorgeous salon pieces that had been largely forgotten, many of which were no longer published and a large number of which were unrecorded.
Through the lockdowns we put on 'Zoom concerts' from our house, which always featured a handful of our most recent discoveries from these boxes, and the concerts built up quite a following – by the last one we had around 500 people watching online! We decided to make a recording of a selection of these pieces, and last summer spent three days recording at Milton Court concert hall in London.
Playing this music on the violin that knew it so well is a special experience. Anyone who has heard Max Jaffa's old recordings will know that he was famous for his sweet, singing sound. Of course, it's the player, not the violin, that makes the sound, but his sound and his unforced approach was a reference point and an inspiration for our own interpretations of the pieces.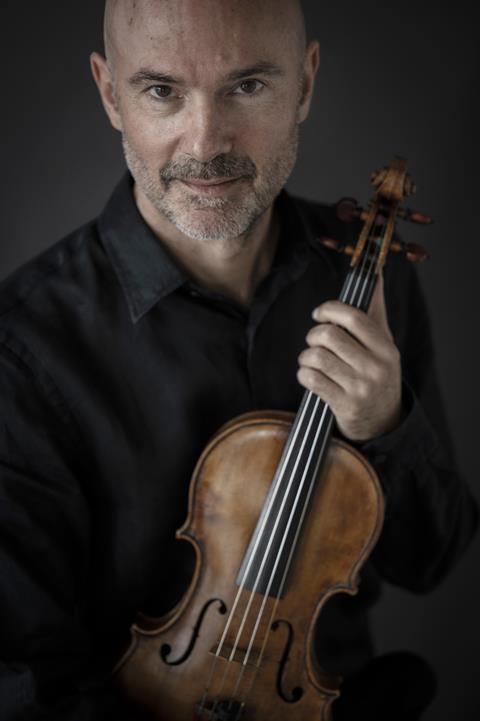 Researching and playing these salon pieces has been an education in many ways. It's been a joy to get to know so many beautiful pieces that have fallen out of the repertoire – there's an immense skill in writing such short pieces and capturing a story and a musical essence in just a couple of minutes. The unforced style needed to make these pieces feel natural also took a while to develop, and I realised that it's a way of playing that has rather fallen out of fashion. In fact, (as Max no doubt discovered before me), this violin is an ideal partner for this kind of playing – it is clear and sweet without being strident and brash, and encourages the player to look for subtleties of colour without forcing the sound.
The resulting CD from our research is released on 1 July. The title, taken from one of my favourite pieces on the album, is 'Love is Like a Violin'. It's a knowingly 'cheesy' title but it does capture the essence of this music, simply and unashamedly gorgeous, sincere and heartfelt, and to have recorded the pieces on the very violin that Max Jaffa used to play them a generation ago was a privilege and a joy.
'Love is Like a Violin' is available for pre-order here: https://orcd.co/loveislikeaviolin
Violin photos courtesy of Beare's