In conversation with Pauline Harding, the German luthier discusses his ideas on sound adjustment, 'Stradivari frequencies' and creating the ideal working environment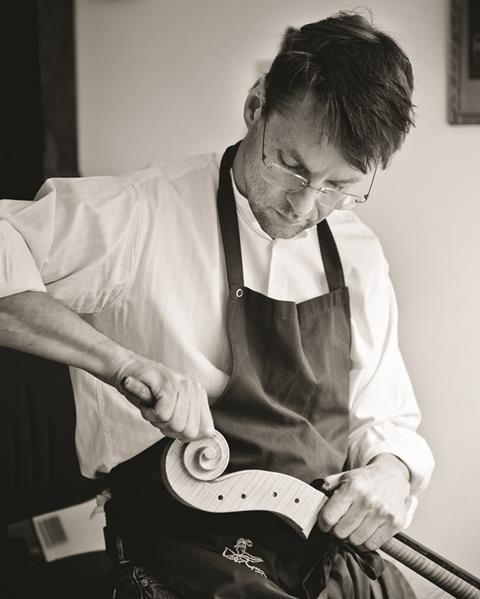 The following is an extract from The Strad's feature on luthier Stefan-Peter Greiner, published in the April 2016 issue – download on desktop computer or through The Strad App.
'If people know an instrument is new, they will criticise the sound. If they think you are playing a Stradivari, they will say, "That sounds amazing. It changes how they hear,' says Stefan-Peter Greiner. One musician has been playing a Greiner cello for nearly a decade, but his biography still claims that he is playing a Montagnana.
'I don't mind,' Greiner shrugs. 'Thirty years ago almost no one played a new instrument. People said they wouldn't work; that new wood has to be played in. But now people have clear proof that new instruments can sound good, and the whole scene has changed for luthiers, because many players are very successful with modern instruments. Today there is a chance that a player will go into a shop looking for a Guadagnini and will end up buying a modern copy instead. That's a good omen.'
But is it enough? There is currently a serious problem in the contemporary instrument market: resale value. 'People will not buy your instruments if they think they will lose money,' says Greiner. 'There should be a guarantee that the maker will give the player at least the original amount they paid if they want to resell it.' If makers do not do this, he argues, they risk their instruments being undervalued at auction, and their reputations may suffer as a result.
Ideally, of course, the resale value of contemporary instruments would go up in the same way it does with good antique instruments, and there would be no need for makers to buy anything back – but this will only happen if demand increases.
Dealers have a responsibility to help, suggests Greiner. They typically make their money by selling high-value instruments to wealthy patrons, who lend them to talented, less well-off players (as do foundations). 'If patrons really want to support the string world, they should not buy a Stradivari for just one young musician to play,' he says.
'Instead, they should buy a hundred good modern instruments to give to some of the hundreds of thousands of students who need them.' These instruments could be quality-controlled through competitions and judged purely on playing quality rather than form or aesthetics, he says. This would help more players to gain access to good-quality instruments while at the same time boosting the contemporary market.
The complete Stefan-Peter Greiner article is published in The Strad's April 2016 issue – download on desktop computer or through The Strad App.
Photo: Giorgia Bertazzi