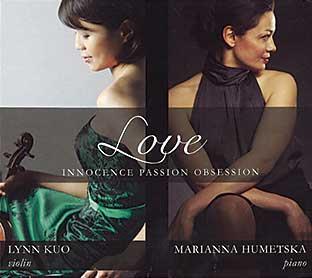 The Strad Issue: January 2014
Description: An unusual but enjoyable recital from a Toronto-based violinist
Musicians: Lynn Kuo (violin) Marianna Humetska (piano)
Composer: Franck, Pepa, Frolov, Piazzolla, Rota
This may be an oddly mixed collection, with Franck's Romantic juggernaut, the Violin Sonata, joining slighter works of the past 50 years by Piazzolla, Rota and others, but it's a rewarding listen overall.
Assistant concertmaster of the National Ballet of Canada Orchestra and leader of the ensemble Les AMIS, Lynn Kuo begins with the Franck, striking a measured but convincing mood in the first movement. She has a natural way of sustaining a note across its entire length – even at the quietest end of the spectrum, as she displays vividly at the end of the third movement, which fades seamlessly into nothing. Sometimes, though, you wish for more reserves of power, and the finale could certainly take more exuberance. She is perhaps not helped by Marianna Humetska's piano being a touch too present in the mix, making a notoriously note-filled accompaniment (though well played here) occasionally fatiguing on the ear.
Canadian composer Michael Pepa's Fantaisie bohémienne of 2004 deftly combines folk material with a sometimes post-tonal idiom and Kuo is a passionate advocate. In the sparser-textured Improvviso by Nino Rota we're back into the Romantic territory. The other highlight, along with the Pepa, is Frolov's Porgy and Bess Fantasy, with both musicians yielding naturally to the jazz idiom. Close your eyes and you can almost hear the clinking glasses through the cocktail-bar conversation.
Edward Bhesania