The orchestral musician remembers the great conductor, who died this week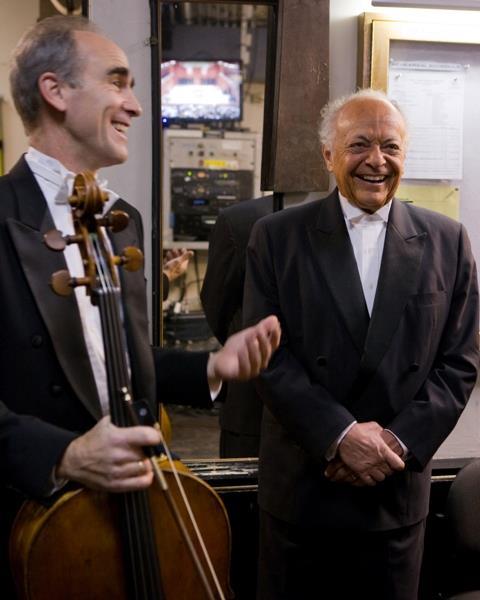 There is a wonderful story from many years ago concerning the late John Martin, longtime principal cellist of the National Symphony in Washington DC, and Lorin Maazel, who was guest conducting there for a week. Lorin, dressed in a gorgeous cashmere sweater, had just acknowledged the polite applause that greeted his appearance and was about to start the rehearsal when the irrepressible Mr Martin said, 'I really like your sweater'. Suppressed giggling in the orchestra; Lorin pretended not to have heard and lifted his baton. John repeated, a little more penetratingly, 'No, really. I like your sweater'. More muffled tittering. Lorin, nonplussed, acknowledged the comment with a barely perceptible nod, and again raised his baton. 'Could I borrow it?' John asked with perfect comic timing, and Maazel as well as the orchestra finally burst into laughter.
Lorin Maazel, whose unexpected death shocked us all this week, was an intensely private man, and many musicians made the mistake of thinking of him as humourless, aloof or unapproachable. It is true that he did not suffer fools; he did not go out of his way to make easy friendships; he did not have recourse to a fund of amusing stories with which to disarm orchestras. What he did have was a serious approach to the process of bringing music to life and a desire that he as well as everyone involved bring their A game to that process. He also had an ability to connect on a one-to-one level that was as rewarding as it was surprising.
I was privileged to have played under his music directorship in two different orchestras; he hired me for my very first major orchestra job as a section player with the Cleveland Orchestra in 1979, and led the New York Philharmonic from 2002 to 2009, where I had already been principal cellist since 1996. I was able to witness first-hand how the passage of years and the attainment of happiness can work subtle changes in a man's attitude to life and work. During the course of those seven years of his New York tenure, through the medium of professional contact, I was able to penetrate a bit beneath the forbidding exterior and was delighted to discover that it was in fact shyness or an impatience with social cant that masked an empathetic, kind, poetic and restlessly curious nature that I think too often went unknown by those with whom he worked.
I treasure the memory of an unbuttoned half-hour on the stage of Avery Fisher Hall following a rehearsal of Puccini's Tosca. I had lingered to go over some question in the score and I found the two of us left sitting side-by-side alone onstage after the rest of the Philharmonic had left. I asked him about his early training in the operatic repertoire and, stretching his legs out full length as he slouched in his chair, he immediately began to reminisce about his mentor, the great Italian maestro Victor de Sabata, a warm glow of, yes, love and humility animating his voice.
He was quietly constant in his support of and respect for us players. There was the time we had just arrived in Zurich from New York and we were rehearsing Strauss's Don Quixote, in which I was soloist. Jetlagged and weary, I kept mistiming an entrance. With gentle humour and patience he murmured, 'That's what we're here for,' and repeated the passage as many times as I needed. In day-to-day practice he commonly placed his vast talent at the service of principal players during solos, allowing us the time and flexibility we needed and rarely if ever imposing an autocratic will on us.
He also knew how to play. It was at the Raffles Hotel in Singapore that he bought out an entire ballroom and presented the Philharmonic with a dinner party, personally circulating among the tables to serve wine to the musicians.
Lorin prided himself on not wasting time. During the course of another tour we had a long list of difficult pieces to get through at a pre-concert rehearsal in Amsterdam's Concertgebouw. The rehearsal could not go a minute over 7pm. Lorin worked steadily and efficiently through the programme, adjusting tempi and balances for the unusual hall acoustics, until he had covered everything. As the orchestra rose to leave the stage, he looked at me with a subtle smile that was half complicit, half self-mocking, and slowly turned the work clock 180 degrees so that I could see the face. It read 7pm, exactly.
Vale, Maestro.
Photo: Carter Brey and Lorin Maazel share a joke backstage © Chris Lee

Subscribe to The Strad or download our digital edition as part of a 30-day free trial. To purchase single issues click here