Almost every month, string players report another travel nightmare caused by flying with their instruments. Femke Colborne investigates how case manufacturers are addressing the challenges they face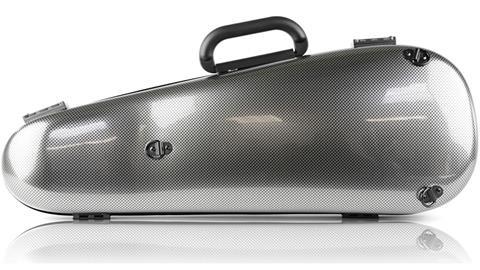 Every musician who has attempted to board a flight with a violin or cello knows that flying with musical instruments can be fraught with difficulties. Stories of people being refused entry to planes, and instruments being reduced to splinters after being tossed around like rubbish by baggage handlers, have made many musicians understandably nervous about travelling. And to make things worse, the rules about what you can and can't take into the cabin vary so widely between airlines that it's almost impossible to predict the fate that awaits your instrument on any given journey. All of this makes it difficult to plan in advance, and even more difficult to have a relaxing journey.
However, over the past few years, instrument case manufacturers have started to wise up to the challenges faced by the travelling musician. They've developed a whole range of products that allow violinists and cellists to travel more safely and conveniently – and be more confident that their instruments will not have been reduced to smithereens by the end of the journey.
The options available vary depending on the instrument. These days, it is usually safe to assume that a violin or viola can be carried as hand luggage. Indeed, in January 2015, after nearly three years of vociferous campaigning from musicians, the US government introduced new federal rules for bringing musical instruments on to commercial flights. The Department of Transportation (DOT) implemented a statute that requires airlines to allow passengers to carry small instruments such as violins, violas and guitars as hand luggage, provided they can be stowed safely in overhead compartments or under seats.
However, the rules still vary in other countries – depending on the generosity (or not) of the staff at the check-in desk. And with airlines becoming more and more strict about the size and weight of hand luggage, musicians can easily find themselves subject to hefty excess charges – or having to buy an extra ticket for their instrument – if their case doesn't fit with the regulations of a particular airline. For this reason, the key to stress-free airline travel for violinists and violists is generally having a case that is as small and light as possible.
Dimitri Musafia makes high-end customised violin and viola cases from his base in Cremona. Recently redesigned, his Master Series (below) has a six-layer high-tensile wood-laminate shell, plush silk velvet interior with accessory box, gold laminated fittings, cherrywood burl trim and patented bow holders. The exterior case cover is in Teflon-treated Cordura nylon and has a pocket. As well as being available in the traditional rectangular shape, the case also comes in a lighter, tapered 'dart' shape weighing only 2.4kg.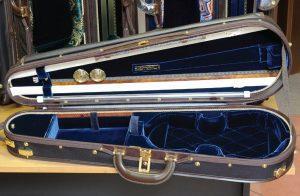 'The dart shape has the same measurements as a normal case but it looks smaller because it is tapered at one end, so it is less bulky,' says Musafia. 'Our sales of dart-shaped cases are double compared with ten years ago, and airline travel is definitely the reason. We also make cases on request without space for the bow, so that they are shorter. Our main clients for those cases are dealers, who don't need to carry a bow.'
Other manufacturers have also focused on making their cases small and light. Based in Croatia, Accord makes carbon-fibre cases for the violin, viola, cello and viola da gamba, prioritising lightness, strength, safety and size. All its cases are fitted with a dual-density foam suspension system to isolate the instrument completely from any impact, making them ideal for travelling. Karmen Ladavac Crepaldi, sales manager at Accord, says: 'Our violin and viola cases are very streamlined and small, so people can take them into the cabin. People hardly ever have any trouble taking them on as hand luggage.'
BAM, a manufacturer based in France, also makes handluggage-friendly violin and viola cases. Its Hightech Cabin model (below) is designed specifically for airline travel, featuring an ultra-light outer shell made from high-performance materials to provide resistance to shock. On the inside of the case, the instrument is suspended on cushions of foam.
Robert Goetz, owner of BAM, explains: 'The case is the same size as the violin or viola and comes with an extra tube for the bow. Usually, any plane will let you take it into the cabin – it is very small and looks like an egg. It's also very light: weight is important because airlines are constantly cutting the weight of their cabin baggage allowance. At the moment, some of them only let you take up to 8kg.'
Italian manufacturer Bogaro & Clemente was established in 1986 by Vittorio Clemente and Edi Bogaro. The firm started making carbon-fibre instrument cases ten years ago. Its Alexander model, available for violin and viola, is designed to match the shape of the instrument as closely as possible, making the best possible use of space. It has a velvet interior, locks on the neck area to keep the width as small as possible and a hard, detachable bow case. The whole thing comes in a handy backpack format and is ultralight (the violin case weighs just 1.1kg). Vittorio Clemente, co-owner of the company, says: 'The viola case is a few centimetres over most hand-luggage allowances, but most airlines will turn a blind eye.'
As well as making the cases of its Air range as light as possible, German-based manufacturer GEWA has taken the case's manoeuvrability in tight spaces into account. 'A trip does not begin and end with the flight,' says product manager Werner Häcker. 'Among other things, it involves getting from gate to gate, passing the security check and finding your seat in the plane. Consequently, an aeroplane-friendly case must have a well-structured form, a scratch-resistant surface and a secure grip. In addition, you should be able to fasten it securely to your body when carrying it through crowds.' The Ergo model in the Air range (below), he says, has been specially designed with the shape of a human being in mind: 'It is easy to carry as a backpack or vertically with a shoulder strap.'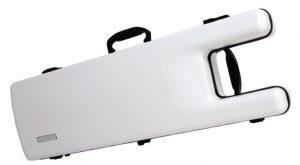 Cellists and bassists, of course, do not have the luxury of being able to take their instrument into the cabin – unless they are willing to pay for an extra ticket, and even then there are no guarantees. For this reason, when it comes to cellos and basses, manufacturers have had to focus on developing ways to protect instruments in the hold: ultra-resilient cases that will withstand not only the treatment of indiscriminate baggage handlers but also severe sub-zero temperatures. Kapsch, a specialist maker of carbon-fibre cello cases based in Croatia, has developed a special cargo-friendly case made from a mixture of composites (below). The case looks the same as the manufacturer's standard carbon-fibre model, but is sturdy enough to withstand reckless handling and gruelling changes in temperature and air pressure. Because the case is heavier than a standard cello case, it comes with the option of wheels for ease of handling.
Tajana Bešić, founder and director of Kapsch, says: 'There were two main points we took into consideration when developing the case. The first was that the instrument should never shift or move inside it when in transit. So it was our primary goal to fix the cello in place, but without adding unnecessary weight. Each one of our cases has a custom-made interior designed for the individual cello. Our customers fill out a detailed measurement form so they can get their instrument safely and tightly fitted inside the case. The second consideration was the composition of the outer shell. Kapsch cases are speci cally reinforced in the places that were shown to be most vulnerable during safety tests. We are also willing to add additional reinforcements if the client requests them. The safety of the instrument is our primary goal.'
Accord also makes cello cases designed to go in the hold. Its Flight model (below) weighs only 5kg but has what is known as a 'crush resistance' of 150–200kg. The interior is fitted with shock-absorbing foam pads that protect against impact and extreme temperatures, and optional extras include a magnetic bow clamp, stabiliser feet and a backpack system. The model is also available for double bass and viola da gamba.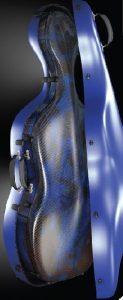 In addition, Accord also o ffers an 'outer case' for cellos and basses, designed to fit directly over a standard Accord case. The shell is made of reinforced fibreglass and the case comes with a foam interior, eight latches, wheels for ease of travel and enhanced insulation to protect the instrument. Crepaldi says: 'You can choose: one very protective case or a combination of a normal case and an outer case. The downside of the Flight cases is that they are heavier, and some musicians prefer to have a lighter case for everyday use and a separate outer shell to use when they travel.'
Bogaro & Clemente also makes carbon-fibre outer cases for cellos and double basses (below), lined with a sandwich of cork and carbon fibre for insulation and strength. It can be adjusted to fit around almost any standard case. These outer cases come in three sizes for cello and three for bass, and are designed to be as small and light as possible: the smallest double bass case is less than 2m tall and is designed to minimise the risk that the musician will be asked to pay an excess weight charge when travelling by plane.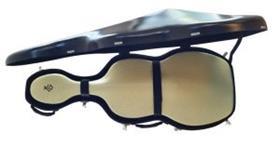 BAM makes an outer cello case along similar lines, with an ABS shell and a malleable foam interior. The case is designed to fit BAM cases but can also work with cases from other manufacturers. However, BAM has also gone one step further to o ffer a new alternative for all string players: the Performance case, which has a soft foam exterior to provide extra shock absorption. Goetz explains: 'We've turned around the idea of the outer shell being hard and the inside of the case being soft. It's not a gig bag; it's more rigid than that, but if you touch it you can squeeze it. That means every shock is absorbed before it gets to the instrument.'
The inside of the Performance case is made from high-density polyurethane foam, protecting the instrument against thermal shocks, and is lined with velvet. It also comes with an accessory compartment and two bow holders, waterproof zips and backpack straps.
Häcker believes manufacturers will continue to develop new cases for airline travel and the market will grow over the next few years. 'Because of the current changes of the market, we can assume that sales of high-quality cases will grow in future,' he says. 'Because of globalisation and musicians' need for mobility in this day and age, the demand is for very light cases that have extraordinary shock absorption.'
Accord's Crepaldi agrees that the market for travel-friendly cases is set to remain buoyant: 'A high-end musician whose cello is worth €1m will probably always choose to pay for an extra seat because they would not want to leave the instrument unsupervised,' she says. 'But musicians at all levels and even students are now travelling a lot more than they did 30 years ago. We are asked very often for light cases and demand is much bigger than it was ten years ago because of changes in lifestyle. People who travel a lot immediately think about having a special light case.'
This article was first published in The Strad's 2015 Accessories supplement.