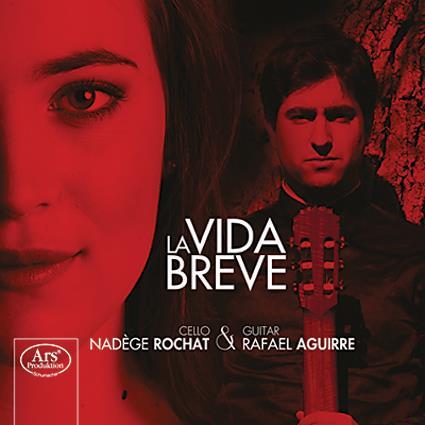 The Strad Issue: June 2015
Description: Spanish sunshine and passion for cello and guitar
Musicians: Nadège Rochat (cello) Rafael Aguirre (guitar)
Composer: Assad, Cassadó, Falla, Gardel, Gismonti, Granados, Lara, Piazzolla and Ravel
What's not to like in a release where the cello delivers harmonious Spanish-inflected melodies, by turns fiery and quixotic, with passionate melodrama aplenty, against a background of strumming guitar? Add to that the Latin American urban folk of the tango and Piazzolla's infectious café style, †¨and you have a winning mix. But even such direct and attractive music needs expert exponents, as Nadège Rochat and Rafael Aguirre prove to be.
Idiomatic and expressive, and supported by warmly recorded sound, they deliver the fireworks in Falla's La vida breve and are particularly sensitive in the diverse folk songs of Falla's Siete canciones populares españolas, presenting a furious and ardent rendition of 'Polo' that makes a striking contrast to their more reflective 'Nana'. Ravel's Habanera is an understated gem, and here Rochat's florid passages cascade effortlessly, almost as if they couldn't be too troubled by the hot sun.
A grittier style imbues the works of Piazzolla – Libertango is taken at a brisk pace, pulsating with urgent edginess, whereas the melancholy tenor of Oblivion is captivatingly haunting. Granados offers charming, well-etched miniatures, again delivered with style. Likewise Requiebros, by cellist–composer Gaspar Cassadó, sparkles in their hands. Both players have clearly articulated virtuosity and characterise the sound dramas of all these works with precision and flair.
JOANNE TALBOT