Tully Potter compares the recorded legacy of the two renowned performers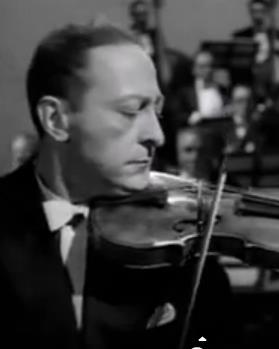 Heifetz or Milstein? Well, now that we can hear them only on recordings or films, we do not really have to choose! We can enjoy each man's playing for its unique qualities.
My own opinions must be qualified by the sad fact that I never heard Heifetz (pictured) in concert. Milstein's playing in a live situation was always perfectly poised and I have special memories of the Beethoven Concerto, a work which Heifetz never played to my satisfaction (neither did David Oistrakh; Leonid Kogan, on the other hand, was even greater in it than Milstein). Milstein did not play all the Beethoven sonatas but at least he allowed his pianists a look in, whereas it must always be a black mark against Heifetz that he appeared too often with inferior pianists and made them subservient to his own powerful personality. Hardly any of Heifetz's sonata recordings, by any composer, can be regarded as decent versions of the scores (I write this soon after listening right through the big RCA box of his sonatas, so my memory is all too fresh).
In the Brahms Concerto, Heifetz and Milstein were equally masterly. Milstein was not very fond of Brahms, apart from the solo concerto, so Heifetz – with two fine accounts of the Double Concerto to Milstein's single, rather halfhearted attempt – is probably the winner here.
Both men were able to make second-rate music sound first-rate, indeed if I had to choose just one interpretation by each, it would be the Bruch Scottish Fantasy for Heifetz (despite his unnecessary cuts) and the Goldmark Concerto for Milstein (the recording with Blech also represents his tone especially well).
In the Mendelssohn Concerto, I prefer Milstein, in the Bruch G minor, Heifetz. Honours are about even in the Tchaikovsky, the Glazunov and the Prokofiev Second. Heifetz has the Sibelius, the Elgar and the Bruch D minor to himself, as Milstein has the Dvo?ák and the Prokofiev First. Both men omit the Intermezzo from Lalo's Symphonie espagnole, to its detriment.
Heifetz made a considerable effort to enrich the repertoire – his most successful commission being the Walton Concerto – while Milstein left it much as he found it. Heifetz also sought out sonatas by such composers as Bloch and Ferguson. I suspect most of us would recognise Heifetz's tone within a few seconds; and I cannot make the same claim for Milstein, whose tone, while always beautifully and evenly produced, was a little plainer – never drab, but plain. For this reason, and for his ability to colour and polish a phrase to perfection, Heifetz would be my choice for most short encore pieces. He was also the better transcriber and arranger. But Milstein was the better Paganini player.
In unaccompanied Bach, Milstein was again the greater interpreter. Here his plainness, his probity, integrity and straightforwardness, won out every time. Heifetz's little tricks, such as his upward flicks of portamento, were out of place in Bach and he sometimes substituted aggression for vigour, especially in the fugues of the sonatas. In the third movements of the sonatas he sounded too Romantic. Curiously, Milstein originally approached unaccompanied Bach via the Reger solo sonatas, as Bach was not much played in Russia; but he became a convincing exponent of all the Baroque music he tackled.
Heifetz could be a most engaging Mozartian, but Milstein could be equally effective in his more contained way and perhaps a little more stylish.
Milstein left us no chamber music for more than two players. Heifetz left a great deal but often played it brutally: his accounts of the Mozart and Schubert quintets amount to crimes against the music. The Tchaikovsky Sextet, so wonderful when led by Kogan, is rather horrible in Heifetz's hands. Rarely did Heifetz appear to be listening to his colleagues: he seemed to regard chamber music as some sort of competition. A notable exception was the Chausson Concerto, perhaps his best chamber performance – he really respected Sascha Jacobsen, who was leading the quartet. The string trios by Mozart and Dohnányi with Primrose and Feuermann are excellent – Feuermann seems to have been able to stand up to Heifetz, and the piano trios with him and Rubinstein are very presentable. Piatigorsky is no match for Feuermann, I fear.
But I would not want to end on a negative note. Both Heifetz and Milstein were, to an extent, prisoners of their upbringing and training. Both men educated themselves to a great degree and achieved considerable levels of sophistication. They also played the violin to an exceptional standard and maintained those standards over many decades. We are fortunate to have so many recordings by which to remember them.
Subscribe to The Strad or download our digital edition as part of a 30-day free trial. To purchase back issues click here.