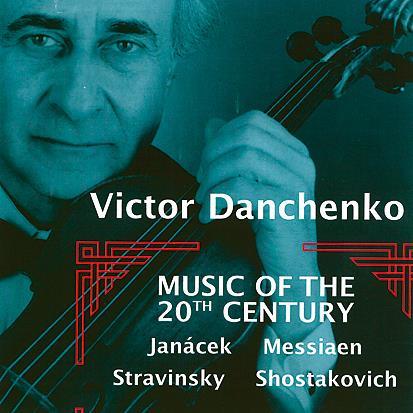 The Strad Issue: January 2010
Musicians: Victor Danchenko (violin) ?Hugh Sung, Patricia Parr (piano) ?Joaquin Valdepenas (clarinet)
Composer: Janácek, ?Messiaen, Stravinsky, Shostakovich
The Peabody Institute's proofreader was clearly on holiday when this CD was prepared – 'Sutie' rather than 'Suite' appears on the cover, among other slips, and there are?smatterings of spelling and grammar mistakes in the booklet notes. It's a shame, because it dents the credibility of an otherwise potent CD. Russian violinist Victor Danchenko is a fine player, and he brings real interpretative power and flair to these 20th-century classics. The recording quality of the disc is clear and transparent, despite the Messiaen and Stravinsky being taken from live performances.
Janá?ek's lovely Sonata glows, Danchenko and pianist Hugh Sung revelling in its vivid colours. Messiaen's Theme and Variations is etched with brittle beauty, and the suite from The Soldier's Tale is fresh-faced and full of charm, despite occasional shakiness in the ensemble.
With Shostakovich's Violin Sonata, Danchenko really shows his full potential, and in Patricia Parr he has a partner of supreme delicacy. The fragile melancholy and angry bitterness that alternate in the opening Andante are perfectly judged; and the Allegretto bristles with passion, Danchenko employing a raw?edged attack that cuts through to the heart of this most despairing of music. The Largo is captivating in its emotional fragility – a?powerful ending to a poorly presented?but worthwhile disc.


Catherine Nelson