Peter Quantrill hears a live stream from Wigmore Hall, London, on 11 January 2021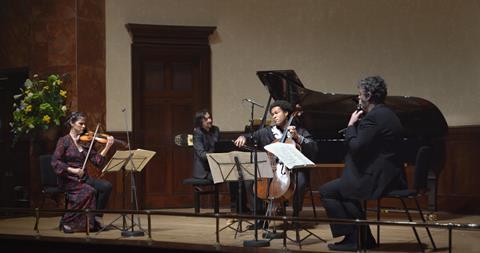 Whether full or empty, Wigmore Hall always feels like a natural home for Messiaen's Quartet for the End of Time. It's a piece that creates its own breathless hush in any halfway decent performance. This one was assuredly better than that. Appropriately for the name of the ensemble, Kaleidoscope majors on collective unanimity and sensitivity rather than individual brilliance, although Matthew Hunt's clarinet stood out for its poetry of reserve even before the long, dark night of his 'Abîme des Oiseaux' solo.
In the long stretches of octave and unison writing, Sheku Kanneh-Mason played attentive partner to Elena Urioste's more characterful violin. Even his glissando at the end of the Intermède was self-effacing to a fault, and his 'Louange', while tenderly shaped, lacked the fragile urgency and goal-driven radiance of Urioste's finale. I especially liked the darker, copper colours of her D and A strings before the unsentimentalised ascent into the wide blue yonder.
She and her husband, pianist Tom Poster, supplied an early highlight of lockdown life online with their concerts at home. The unison 'Danse de la fureur' was another high point – not too careful, even in the studio-like conditions, but hurled out with a few singed corners.
PETER QUANTRILL