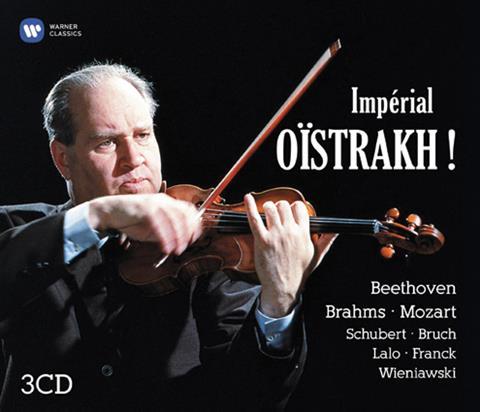 The Strad Issue: August 2015
Description: Complete works and extracts help to illustrate Oistrakh's greatness
Musicians: David Oistrakh (violin) various artists
Composer: Beethoven, Brahms, Bruch, Franck, Lalo, Mozart, Schubert and Wieniawski
This compilation seems designed for those Classic FM listeners who like 'a bit of Mozart'. Four complete works, including the relatively short Wieniawski Légende, are supplemented by twelve individual movements plus, would you believe, the theme and first variation fromthe central movement of the 'Kreutzer' Sonata!
The Beethoven Concerto with Cluytens was David Oistrakh's own favourite version but he rarely connected fully with the work. It is very comfortable, without Innigkeit. The Brahms Concerto with Szell starts with a stodgy tutti and is too monumental in the opening movement for my taste. The Adagio is lovely, the finale solidly played.
Almost a whole disc is devoted to parts of the Mozart set with Oistrakh directing the Berlin Philharmonic. The D major Concerto K218 is lovingly played and the more intimate moments of the Andante cantabile are done with great tenderness. The Allegro of K216 and the Adagio of K219 are just a tad heavy. In two movements from the Sinfonia concertante with son Igor, I must dissent from the general praise for Oistrakh Sr's viola playing, which lacks the colours of a Primrose or Barshai.
Wieniawski's Légende is beautiful, with celestial double-stopping. The finale of the Beethoven 'Triple' is far preferable to the ghastly Karajan version and the Allegro of the Brahms 'Double' with Fournier is superbly played by all concerned – this was one of Oistrakh's favourite recordings and he listened to it on the day he died. But save your money and put it towards the big Warner Oistrakh box.
Tully Potter