In the face of bugs, bad weather and worse acoustics, Pauline Harding goes on a quest to discover why musicians ever agree to play outside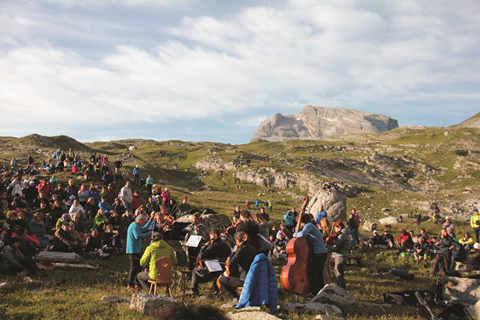 This is an extract from an article in our June 2018 issue, featuring contributions from violinists Mira Wang and Madara Pētersone, violist Maxim Rysanov, and cellists Jan Vogler and Johannes Moser. Download the June issue on desktop computer, via the The Strad App, or buy the print edition
'If your aim is to play the best concert you've ever played in your life, outdoors, that's going to be very difficult to achieve,' says violinist Mira Wang. 'I think that outdoor concerts are about trying to reach a more general audience, in a relaxed situation where they can still enjoy the music. If someone thinks, "It's a beautiful day, let's go for a picnic," and then they see an outdoor concert where they can sit on a blanket with their children running around, then you have reached some people who would never normally be in that scenario and it's an achievement.'
For the same reason, cellist Johannes Moser is willing to accept the odd helicopter fly-by as he plays for families enjoying their dinner on the lawn at, for example, a buzzing Hollywood Bowl. 'If you expect you're going to have the same concert experience outdoors as you have in a concert hall, then your mindset is just wrong,' he says.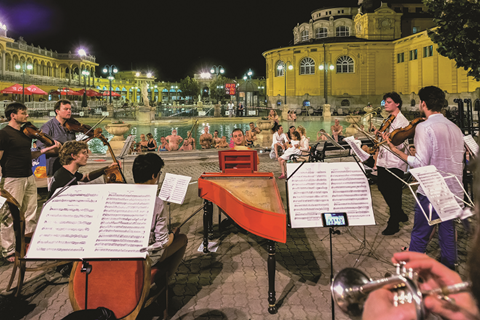 'It's a completely different animal and it needs to be treated like that. The inclusiveness of these kinds of performances is something that I enjoy very much, and I'm happy to make some sort of compromise just because I know that we'll be received by such a wide variety of people.'
And so the overall message, it seems, is that playing outdoors is not all about the musicians: it's about enduring adversity to reach audiences that might ordinarily never have considered engaging in classical music.
At the Széchenyi Thermal Baths in Budapest, local children blew bubbles and danced in the thermal pools while the festival orchestra played, and violist Maxim Rysanov admits that he did really have fun – as did the audience members sprawled over the sunbeds and swimming in the moonlit water to sounds of Handel's Water Music. 'Inside a concert hall the audience will never be as free as they are outside, and there is a charm about that,' he says.
'Outside they can enjoy the music without being forced to listen to it.' In the Sounds of the Dolomites Festival, meanwhile, an emotional audience sang along to the Kremerata Baltica's encore of the local traditional song La Montanara, still revelling in what for many was a rare opportunity to hear classical music performed live.
'There were no borders and this was beautiful,' says co-leader Madara Pētersone. 'I felt very connected with the audience.'
Even at those outside drinks receptions where we musicians feel our efforts are in vain, maybe – just maybe – someone new will hear us, will enjoy our playing, and will connect to classical music in a way that would never otherwise have come to pass. Maybe that is what we have to remember, as we struggle on through the humidity, heat, wildlife, wind and rain.
To read the full article, download the June issue on desktop computer, via the The Strad App, or buy the print edition