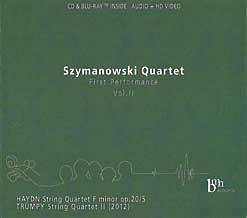 The Strad Issue: January 2014
Description: Restless live recordings of quartets old and new
Musicians: Szymanowski Quartet
Composer: Haydn, Trümpy
For this second volume in the Szymanowski Quartet's 'First Performance' series, you can choose between watching this live concert on a Blu-Ray disc at a sampling rate of 96,000Hz and 24-bit resolution or listening to a sound-only, 44,100Hz/16-bit CD. Arguments continue to rage as to the actual improvement of 24-bit over 16-bit resolution (the latter in theory already covers the human hearing range), but on this occasion the higher resolution results in discernibly fuller, more tangible sound.
Haydn's op.20 no.5 is given a searching reading of enhanced dynamic and expressive range, complete with occasional authentic bulges and passages of senza vibratos. The high level of interpretative intensity results in the music never really settling – rarely has its expressive kinship with Beethoven's 'Serioso' Quartet in the same key been so keenly registered.
The world premiere of Balz Trümpy's highly intricate and texturally dazzling String Quartet II of 2012 (the Blu-Ray disc includes a fascinating filmed conversation with the composer) plays directly to the Szymanowski players' restlessly probing style, resulting in a gripping soundscape throughout which they maintain their command and composure to a remarkable degree. Filmed from one continuous angle, the video shows a lack of directorial intervention that is actually a welcome relief on this occasion, given the arresting nature of the performances.



JULIAN HAYLOCK