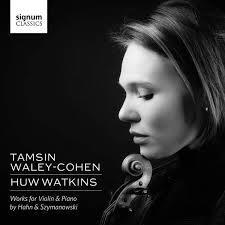 The Strad Issue: December 2015
Description: An 'odd couple' of composers receive warm-hearted performances
Musicians: Tamsin Waley-Cohen (violin) Huw Watkins (piano)
Composer: Hahn, Szymanowski
Tamsin Waley-Cohen launches into Szymanowski's Sonata with gusto, her bow rasping on the string in the composer's passionate flights, her sound meltingly beautiful and fragile in his graceful melodies. She has a potent rhetorical style, moving neatly from dramatic flourishes and cadenzas into gentle lyricism, her well-judged rubato aiding the constant adjustments of tempo. It is a fine performance, with a beautifully shaped Andantino at its heart, and within that a suitably dry Scherzando.
She opens Reynaldo Hahn's Sonata with a sweet and deceptively naive tone, in keeping with the music itself. Her playing is beguiling and understated, deftly shaping Hahn's sinuous lines. Her light touch runs through the skittering scherzo as well, effortless and weightless. The last movement opens as a hushed meditation, with Waley-Cohen musing gently, sotto voce, as the piano ripples around her. There are a few clouds later, but the whole sonata is a wonderful demonstration of delicate, subtle expression.
Hahn's two shorter works are in a similar vein. Waley-Cohen uses a good deal of expressive portamento in the wistful Romance and somnolent Nocturne. Szymanowski's own Nocturne seems at first reluctant to break the spell, before waking up into a Spanish-inflected dance, with rich playing from Waley-Cohen. The Tarantella provides an ebullient finish. The recording is warm and well balanced.
TIM HOMFRAY