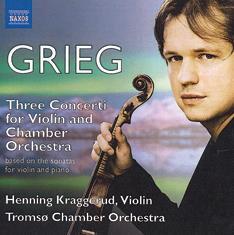 THE STRAD RECOMMENDS
The Strad Issue: January 2013
Description: Intriguing new concerto versions of Grieg's violin sonatas
Musicians: Henning Kraggerud (violin) Tromsø Chamber Orchestra
Composer: Grieg (orch. Kraggerud & Lund)
By his own account, Norwegian violinist Henning Kraggerud has been 'troubled… since I was a boy' by the dearth of Norwegian works for violin and orchestra. As a result he has arranged Grieg's three violin sonatas – with the help of Simen Lund, a cellist from the Tromsø Chamber Orchestra (of which Kraggerud is artistic director) – as concertante works.
Kraggerud recorded these sonatas (with piano) over 15 years ago. In this new disc his sound is more burnished, his lyrical style more assured and natural-sounding. Indeed, from first to last he seems not to put a foot wrong. He's as convincing in conveying Nordic pastoralism as he is in the more dance-like folk elements (such as the reference to the drone of the Hardanger fiddle in the second movement of no.2). And though there's dramatic turbulence in the first movement of no.3, it's in the hushed, intimate expression that Kraggerud is perhaps most affecting, as if taking us aside into secret corners.
For all his dependable sound and technique, amply captured in this recording, he never loses – nor does he overplay – the qualities of naivety and mythical storytelling. In all this the Tromsø Chamber Orchestra is a warm and pliant partner, and the additional instrumental colouring is highly rewarding. On its own terms, and in many ways, this is a highly covetable disc.
Clip: Grieg Violin Sonata no.2 in G major, op.13, 2nd movement (Allegretto tranquillo)
Edward Bhesania