She tells Naomi Sadler why she spent two years on a quest to present the late former South African president with a musical homage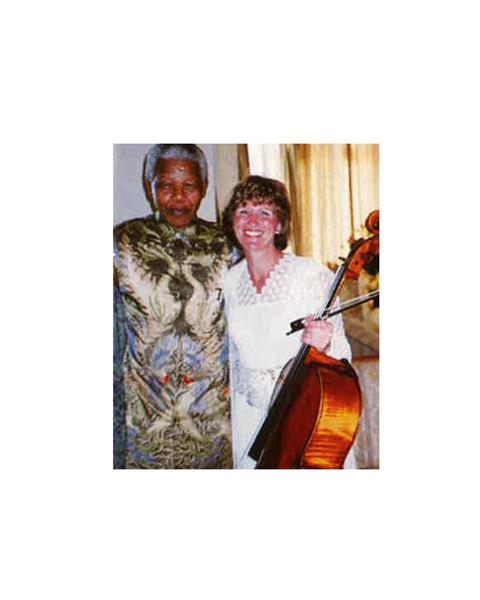 How many of us have read an inspiring book, wished we could meet the author, but dismissed the idea as impossible? Not German cellist Maria Kliegel. After reading Nelson Mandela's autobiography A Long Walk to Freedom in 1995, she became determined to put her dream of meeting the then South African president into action.
'I was so fascinated by the humanity of Mandela that I decided I would like to meet him, shake hands and look in his eyes for one minute and then go home again,' she recalls. 'then I thought no, I don't want to do only this, I want to do something for him – I want to contribute to him as a musician somehow. So I thought of having a composer write a piece which I could possibly perform in his presence.'
Kliegel opted for a piece for cello and percussion 'because of the rhythm of South African people,' she explains. 'they are very musical – every movement, everything that they do is rhythm and music.' This combination of instruments would, she felt, provide a bridge between the European and South African musical traditions. Her choice of composer, compatriot Wilhelm Kaiser-Lindemann, proved ideal. Kliegel was already familiar with his work, including a Brazilian-inspired work for six cellos, and several which incorporated percussion. 'So I knew he could do it,' she says. 'I told him my idea, but then I told him to read the book first, to see whether he could follow what I wanted to say. I also brought him an original lullaby tune from South Africa, which I wanted incorporated.' An equally enthusiastic Kaiser-Lindemann started work at the beginning of 1996.
Kliegel was delighted with the final product, Hommage à Nelson M. The first of its four discrete movements, Robben Island (the island of Mandela's imprisonment), opens with long, sustained notes on the cello twining eerily with vocal humming from the cellist. It is an image of imprisonment, she says, 'of loneliness and patience, of having to wait. But still there's hope.' Hunting, which focuses on the relationship between black and white South Africans during the apartheid years, incorporates bebop jazz elements. 'It's very virtuosic,' says Kliegel somewhat ruefully. 'There are long passages where it's only pianissimo, no crescendos, no accents – like whispering, but very fast.' Written in 7/8 time, Metamorphoses features African rhythms and represents 'the changing of a country and the joy of rhythm'. By contrast, the Lullaby for Zaziwe is more gentle. Inspired by Mandela's description of his reunion with his family, including Zaziwe, the granddaughter he had never met, it uses the lullaby tune of his tribe. 'Intellectually you must be ready to dive into the music,' Kliegel reflects of the work as a whole. 'You really have to sit and listen to it, not just let it wash over you. Otherwise you don't get the message.'
Although Kliegel wanted the first performance to be in South Africa, in front of Mandela, this proved impossible and the work was premiered in Düsseldorf, Germany, in December 1996. Her big break finally came in 1997 when she was invited to perform excerpts of the work at the Nico Theatre in Cape Town as part of South Africa's Heritage Day (14 September). Mandela was not present, but his close friend and fellow captor on Robben Island, Govan Mbeki, was. 'He came backstage after the concert and told me he would tell Mandela about the whole thing. Three weeks later I received an invitation to say that Mandela wanted to meet me and thank me.'
The brief meeting, in November 1997, was everything Kliegel had hoped for. 'I took my cello without knowing what to play – if I should play at all. I was pretty nervous about it!' she recalls. 'But he came in and said how exciting it was for him to meet a world-famous artist and we sat down immediately and had a chat.' Kliegel told Mandela about the inspiration behind Hommage à Nelson M. and she played and sang a variation of the fourth-movement lullaby for him, having learned the African text to go with it. 'The pronunciation was probably horrible,' she laughs, 'but I had the feeling that his soul had been grabbed by it, that he understood my message.'
This article first appeared in The Strad, February 2000. Subscribe to The Strad or download our digital edition as part of a 30-day free trial.