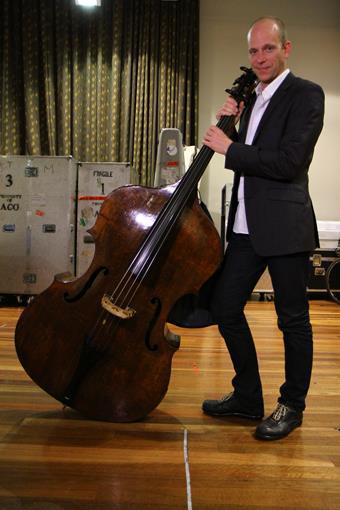 The Australian Chamber Orchestra (ACO) has been granted use of a rare Gasparo da Salò double bass. Made in around 1580, it is one of around a dozen surviving basses by the luthier, regarded as one of the founders of the Brescian school of violin making.

The instrument will be played by the ACO's principal bassist Maxime Bibeau (pictured), who previously played a 19th-century instrument made by London luthier Thomas Kennedy. 'You can really hear and feel the maturity of the instrument,' he said. 'My colleagues would agree that as well as having an incredibly beautiful tone across its range, it has a large sub-woofer-like quality that adds a whole new dimension to the sound of the orchestra.'

It is believed that the decorated bass may have had only three owners: its earliest known provenance is the Augustinian abbey of Neustift in northern Italy. It was sold to German bass player Günter Klaus in 1970 and was bought by its current owners in 2012. Bibeau has been practising on the bass for the past few months.

In 2006 the instrument was assessed by expert Stefan Krattenmacher for Double Bassist magazine, formerly a sister publication of The Strad. Krattenmacher described the model as 'exceptional – the round, but well-sized middle bouts with their long corners fitting so agreeably; the round, wide upper and lower bouts; and the upper-block curve which runs steeply up towards the neck, making the instrument very comfortable to play'.

More images of the double bass can be viewed here.
Photo: Will Huxley