Tim Homfray travels to London's Milton Court to hear the performance of Beethoven, Janáček, George Walker, William Barton, Thomas Adès and Ruth Crawford Seeger on 27 October 2022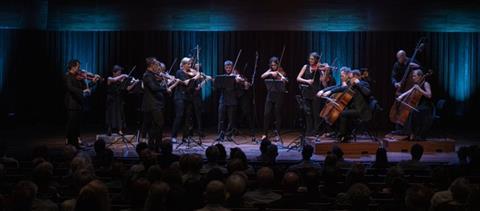 This first night of a three-day residency by the Australian Chamber Orchestra opened with two pieces by William Barton for didgeridoo and orchestra. Barton was the soloist and, in the first work Didge Fusion, also the impassioned singer and guitarist. This was virtuoso playing, producing a great variety of sounds, popping, barking and rasping, as the strings pounded rhythmically behind him. Thomas Adès's Shanty – Over the Sea followed, with much portamento and percussive pizzicato. For Ruth Crawford Seeger's Andante for Strings Richard Tognetti, the ACO's director and leader, indicated the beat emphatically with his bow as the players all wove slowly around each other in small intervals.
In Tognetti's arrangement of Janáček's First String Quartet 'The Kreutzer Sonata', the musicians switched neatly through the constant changes of gear in the first movement, and produced real heft and attack in the second, with eerie ponticello tremolos. Tognetti's solos in the last movement were as melancholy as the composer could have wished for.
After George Walker's warm Lyric for Strings, the ACO performed a remarkable arrangement by Tognetti of Beethoven's 'Kreutzer' Sonata, rechristened the 'Bridgetower' and converted into a violin concerto with Tognetti the dynamic soloist. This was enormous fun (though not for the purists), with the players generating fierce joy in the first movement, nicely conversational solos between Tognetti and principal violinist Helena Rathbone in the second and a thrilling combination of stomping dance and elfin frolics in the finale.
TIM HOMFRAY