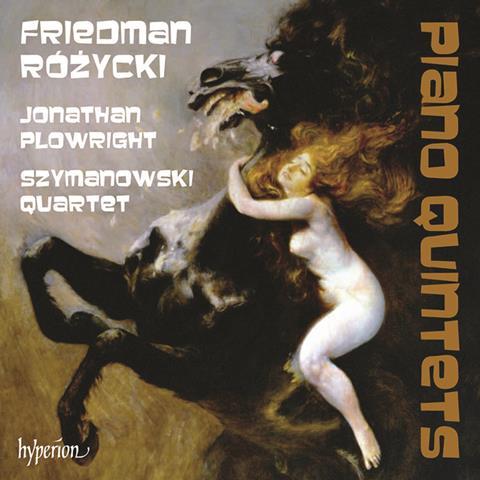 The Strad Issue: December 2016
Description: Piano quintets from the twilight of the Romantic era
Musicians: Szymanowski Quartet, Jonathan Plowright (piano)
Composer: Friedman, Rózycki
Catalogue number: HYPERION CDA 68124
Written in Paris and Berlin in 1913, Ludomir Rózycki's Piano Quintet is very much of the late Romantic style. It opens calmly but rapidly moves into more urgent emotional territory and back again, and is played here with a matching gentle luminosity rising to warm-blooded passion.
The players caress the wistful second subject, serene but flowing forwards, and play the highly charged central section with rhythmic punch and focused lyricism. Cellist Marcin Sieniawski brings mournful eloquence to the recitative-like opening of the Adagio, a mostly soft and mysterious movement played with deftness and sensitivity, before a startling outburst near the end. The final Allegro giocoso, despite its essential jollity, passes through many moods, all beautifully elucidated by the players.
Ignacy Friedman's 1918 Piano Quintet has a stormy opening leading to a rich and sweeping second-subject waltz, played with beguiling but disciplined sentimentality and beauty. This work too is Romantic in spirit, with the ghost of Richard Strauss hovering nearby. The players handle its textural complexities with aplomb, aided by the technical excellence of the recording. There is some light and delicate playing in the eight widely differing variations of the second-movement Larghetto, and the finale, with its references to the earlier movements, is full of style and grace.
Tim Homfray