The 2021 Princess Astrid International Music Competition worked around the continuing pandemic restrictions with online preliminary rounds followed by a live final on 18 November. Tim Homfray travelled north to witness some compelling performances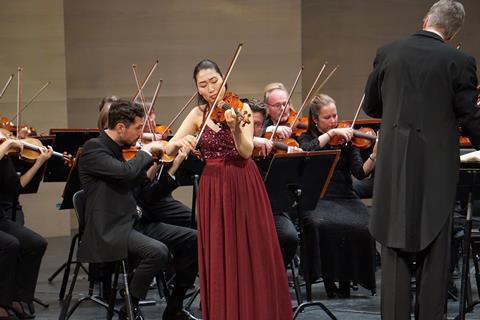 I am in Trondheim in November 2021 – around 300 miles south of the Arctic Circle and it's milder than I had feared – on the evening before the finals of the 21st Princess Astrid International Music Competition for violin. It should all have happened in 2020, but like the Olympic Games it was overtaken by events.
A few hours earlier, I was wondering if I would be here at all, as I sat at Oslo Airport, stranded in transit, with the 'wrong kind of Covid pass' and trying to download an app, with a plane to catch and the prospect of quarantine if I failed. The trials of international travel would have affected most of the people involved in the competition, but they all got there, and so did I. After that, Trondheim was great fun.
The finals were the first physical manifestation of the competition. All the previous rounds were online, with violinists in different countries playing for jurors in other different countries – and the public concerts which went with the semi-finals were cancelled. Despite the unusual circumstances, there were 180 applicants, some held over from last year, who had been whittled down to nine via pre-selection videos to take part in the semi-finals. For these they played a Beethoven sonata, a virtuoso solo piece and a new work by young Norwegian composer Victoria Seline Stokland, Glassberget ('The Glass Mountain').
It was only possible for me to hear short highlight videos of the semi-finals, enough to recognise the high standard of entrants and to get a taster of the new work, which features vehement repeated notes and a range of bowing techniques. It was inspired by a fairy tale about a princess on top of a glass mountain, which various suitors try to climb. According to the composer, 'It's about trying to get somewhere, but getting there feels impossible.' It could be a metaphor for a competition. Anyway, three of them made it and were ready for two mornings of rehearsals and the final concert with the Trondheim Symphony Orchestra and conductor Gregor Bühl.
The jurors up to then had neither met nor conferred, but simply voted for the candidate they considered the best, technically and artistically, in each round. There were seven of them, some violinists, of course, but including David Pickard, director of the BBC Proms, and Tanja Dorn from Germany, president of the Dorn Music management agency.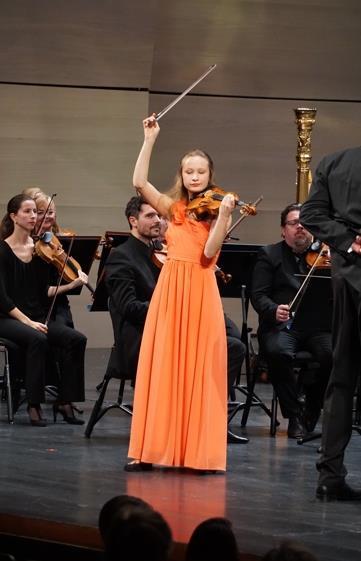 The jury leader was violinist and conductor Julian Rachlin, a man with trenchant views on competitions. I talked to him in the vast and splendid Britannia Hotel on the afternoon before the final concert, slightly rueful that he couldn't join me in a glass of wine. Having the early rounds online was not ideal, he said, as they lacked some of the energy of live performance, but the technical quality of the videos was good.
'It was fair, and the conditions were the same for everybody. There were many wonderful talents, and others who could have made it, but I can live very well with today's three finalists.' Music competitions are not like sports events, he said, with clear winners and losers. 'Gidon Kremer came third in the Queen Elisabeth Competition. Pogorelich was knocked out of the Chopin Piano Competition – and he became famous.'
His advice to young players is 'absolutely' to do competitions, but not just in order to chalk up a win. 'There is a goal in a competition, as in, "I want to challenge myself, to squeeze the best out of myself. And I get to meet other great competitors." I don't believe in money for the winners' – the winner of the Princess Astrid received 160,000 Norwegian kroner, or roughly £13,600. 'It is very nice to get money,' continues Rachlin, 'but what really would help would be to get a load of concerts. A competition is to put you out there. It gives you the ability to start working even more.' In addition to the cash prize, the winner of this competition got two concert engagements.
The finalists' concert took place at Olavshallen, Trondheim's main concert hall – possessed of an excellent acoustic. It was an unusual arrangement, featuring most of three concertos with movements shared between the players. Only 16-year-old Marie Helling from Germany/Poland had a complete work, Waxman's Carmen Fantasie, which she played with plenty of heat and vigour – by the skin of her teeth in some of the flights of virtuosity. She followed it with the first movement of the Sibelius Concerto, with fine phrase-shaping and a firm sense of structure. There were a few inaccuracies, and intonation was sometimes a little approximate, but her playing had authority and excitement.
Karen Su, a 23-year-old from the US, came on next to complete the Sibelius. She brought warmth and intensity to the Adagio di molto second movement, with a touch of improvisatory freedom. The dashing opening paragraph of the finale had plenty of flair (it wasn't quite faultless, but she's in good company there), and her performance overall had confidence and drive. In the opening movement of Prokofiev's Second Violin Concerto, she caught the composer's many voices and lightning changes of character: steely, motoric, expansive and lyrical, with many light, quicksilver semiquavers along the way.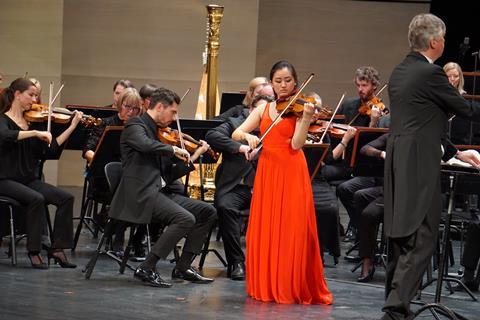 The middle movement of the Prokofiev was missed in this concerto relay, but the 26-year-old Japanese violinist Yukari Ohno opened with the finale, which she played with a surety of technical command, her bowing both precise and free, her tone clear and focused through all the variety of Prokofiev's technical challenges. She demonstrated huge maturity in the second and third movements of Brahms's Concerto. The Adagio was one long-spun line, fluid and expressive, and the Allegro giocoso was crisp and dynamic, a thrilling demonstration of virtuosity and musicianship.
A short while later, Rachlin came on with the jury. He announced the results, each one accompanied by a snare drum roll and a little fanfare. Helling was third and Su was second. Of Ohno, the winner, he said, 'She not only connected to the composer and to his wishes, she had an amazing dialogue with the orchestra… The way that then she added her own personality and her own interpretation was outstanding.'
Afterwards, there was a meal back at the Britannia Hotel (that place really is enormous) at which Rachlin, over halibut and the wine he couldn't have earlier, told me the decision had been unanimous, not just from the jurors but from the orchestra, which had a joint vote.
Then we talked of the current annoyances of travelling. He was off back to Austria early the following morning – just in time for a new lockdown, as it turned out. There were two fire alarms at my hotel, it poured with rain the following morning, and nobody wanted to see the passenger locator form I'd had to fuss about with. Still, Trondheim was great fun.
This article was published in the February 2022 Théotime Langlois de Swarte issue

The Baroque violinist's career has taken off in the past year. Charlotte Gardner talks to him about his quest to popularise the works of long-lost composers. Explore all the articles in this issue . Explore all the articles in this issue

More from this issue…