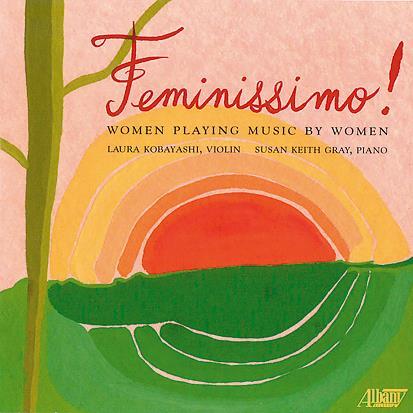 The Strad Issue: January 2009
Musicians: Laura Kobayashi (violin) Susan Keith Gray (piano)
Composer: Warshauer, Bacewicz, Price, Lund, Risher, Diemer, Viardot-Garcia, Kapralova, Fabregas
Despite the rather earnest title, this disc does the valuable job of introducing a handful of female composers of various nationalities whose voices are rarely heard – Polish Grazyna Bacewicz was the only name familiar to me.
The disc does contain a few lightweight items, including Meira Warshauer's occasionally sentimental Bracha (2004), which makes for a rather flat opening to the disc, relying heavily on melodies double-stopped in sixths, although the moments where the straightforward harmonies cloud show glimmers of beauty. Other also-rans include Florence Price's The Deserted Garden (1933), a spiritual song without words: pleasant enough but unadventurous.
Elsewhere, however, Laura Kobayashi and Susan Keith Gray tackle more substantial works. Bacewicz's Violin Sonata no.3 (1947) is melancholy and tempestuous by turns, from the dancing fury of the Allegro moderato through the melting drift of the Allegro, the choppy Scherzo and the high-flown brilliance of the Finale. Throughout, Kobayashi shows some richly varied tone colours and Gray lends sensitive support, though tuning is sometimes unconvincing, particularly in the frantic runs of the opening.
The jazz-infused motifs and sweeping phrases of American Emma Lou Diemer's Before Spring (1997) are delicately described, and the Six morceaux (1868) by French composer Pauline Viardot-Garcia are beautifully characterised, from the lithe 'Berceuse' to the wry 'Tarantelle'. The chromatic, lustrous beauty of Czech Vítezslava Kaprálová's Elegie (1939) is a joy, all the more poignant because the composer died the year after composing it, at the age of just 25. The First Sonata (1994) by Spaniard Elisenda Fábregas makes a suitably robust finale, with Kobayashi and Gray revelling in the nimble-fingered and questioning Allegro and its gorgeous central Elegy. All told, this is a somewhat uneven selection of works but worthwhile for its unexpected treasures.


Catherine Nelson