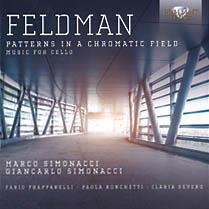 The Strad Issue: January 2014
Description: There's control but too little detachment in this Feldman survey
Musicians: Marco Simonacci (cello) Paola Ronchetti, Ilaria Severo (soprano) Fabio Frapparelli (horn) Giancarlo Simonacci (piano)
Composer: Feldman
There's no mistaking the fervency nor the passion of young Italian cellist Marco Simonacci in this vivid two-disc collection of Morton Feldman's cello music, which covers 40 years of the composer's output from early semi-graphic scores to the long, meditative works of his final years. Whether Simonacci's intensity of expression finds a suitable vehicle in Feldman's abstract, often enigmatic music, though, is another question entirely.
In the early indeterminate scores Projection 1 and Intersection 4 from the 1950s, for example, the cellist stitches together Feldman's isolated gestures into gracefully flowing, entirely convincing monologues. But despite his pinpoint technical accuracy and athletic articulations, he's a little overheated for the composer's sometimes distant coolness. It's the same in the later Durations 2, where Simonacci's rich, Romantic vision of the music seems too warmly expressive for the music's chilly elegance.
Elsewhere, though, his superb control of sound comes into its own: in a finely nuanced Two Instruments for cello and horn, it's sometimes hard to tell the players apart, and the extraordinary intermingling of sopranos and strings in Voices and Cello is mesmerising.
The 90-minute 1981 Patterns in a Chromatic Field – unfortunately but unavoidably split across the two discs – is the main draw, though. And again, Simonacci's playing seems too big for the music – at times he's restless, even hyperactive, injecting an almost expressionist grotesquerie into music whose power surely lies in its cold ambiguity. He's not helped by the unforgivingly close recorded sound, which picks up every waver of intonation, rasp and breath.
David Kettle