David Kettle watches a live stream of the performance from London's Wigmore Hall on 9 January 2021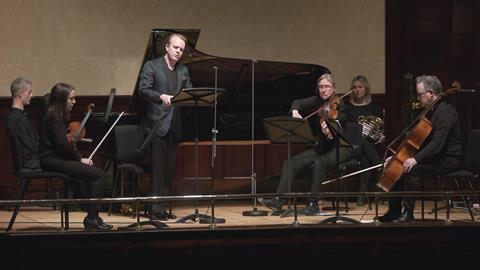 'Meaty' and 'muscular' are adjectives not often applied to performances of the sparse, fragile, near-silent music of Morton Feldman. But they feel particularly apt in relation to the day of Feldman's music, spread across three concerts, given by London-based contemporary music group Apartment House (below). Indeed, the pandemic-provoked absence of audience and camera close-ups on ensembles and individual musicians felt particularly fitting for this introspective music in which detail is everything. And the Apartment House musicians approached the works with a no-nonsense directness: rather than stressing the music's meditative stillness and otherworldly spirituality, what emerged was a sonic landscape of jagged, unpredictable irregularities, surveyed sensitively, but also with an honest objectivity that let the music speak for itself.
Apartment House's middle concert was devoted to the 90-minute Piano and String Quartet of 1985, a late work in which Feldman explores time and scale in music that feels never-changing yet never exactly repeats. It was a beautifully balanced, expertly paced account, one that traced the music's journey into swelling richness and bleak austerity, with pianist Mark Knoop finding Messiaen-like radiance in Feldman's extravagant harmonies. The four string players – including Apartment House's founder Anton Lukoszevieze on cello – played with impeccable ensemble, as if they'd lined up their attacks and chord weighting under a microscope.
In the earlier concert, violinist Gordon Mackay found a child-like simplicity, even folksiness, in the arching figures of For Aaron Copland, while cellist Lukoszevieze returned in the final concert to blur his sonorities with those of horn player Letty Stott in the surprisingly fast-moving Two Instruments. These were concerts of quiet revelations, in terms of both their seldom-heard repertoire and their disarming directness.
DAVID KETTLE