The British cellist recalls her time studying with Heinrich Schiff in Vienna, and the authors and recordings that still inspire her today
I love the fact that we can immediately recognise the different voices of the string playing masters of the early 20th century when we hear them on recordings. Each player had his or her unique voice on their instrument as different as every human voice. I want my students to develop unique voices too.
It would be boring for them, as well as for me, if they all sounded the same, and the last thing I want is to help produce a 'commodity' – so I try to help them play in a way that reflects who they are and how they emotionally react to a score, as well as how to understand it intellectually. Both of those aspects are things I try to develop constantly as a player too.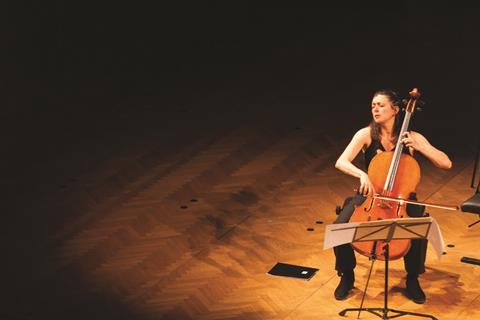 Musicians are living, breathing animals and it's vital that we ground our expression in who we are and what inspires us. You can find that inspiration in all sorts of places but from a very young age I've always looked to strong women as role models. I remember very clearly reading a book by Jeanette Winterson when I was 16 and being so impressed by her refusal to make any compromises in her work.
Now, as then, she speaks about art as a full reason for living. I felt a real connection as a youngster with this almost religious intensity and even though playing the cello is a job, it feels much more like a vocation – one I'm very lucky to be able to pay the mortgage with.
'Even though playing the cello is a job, it feels much more like a vocation'
It was so exciting to be one of Heinrich Schiff's students in Vienna. He was completely dedicated to us, and seeing his life and work so close up we really felt like the chosen ones – more like apprentices than pupils. His playing was faultless, of course, but it was the intellectual and cultural breadth of his mind that made his teaching so valuable. Whole new worlds opened up to me while I was studying with him.
I remember once taking a sleeper train to Rome, where he was performing, and after our lesson going for lunch at the home of Italian conductor Giuseppe Sinopoli. It was especially exciting since he was an avid collector of Greek vases, and I'd just been studying them at school.
As students, we had intense and extremely formative relationships with Heinrich. He had an extraordinary depth and integrity – we all hold him up, now as then, as the ideal, as someone we strive to emulate but can never equal. His relentless pursuit of technical perfection to serve the score rather than his own ego is something I always try to keep in mind in my own playing. Combining heart and mind in respect for the music was his greatest gift to us as students.