Raffaele Pagano took on work as an Uber driver after Covid-19 put his musical career on hold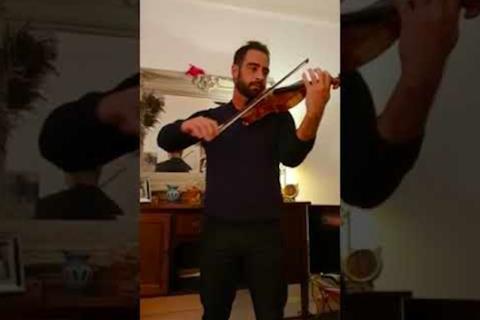 The Italian violinist Raffaele Pagano, concertmaster of the London Arte Orchestra, has been practising the violin while working shifts as an Uber driver.
Pagano, 34, who moved to London from his native Naples in 2014, took on work with Uber after the first lockdown decimated his playing schedule. Working 70-hour weeks, with an average rating of five stars, he took to playing in his car after hearing that one of his musical heroes - the Italian film composer Ennio Morricone - had died. 'I had one of his melodies clearly in my mind and I stopped my car,' he told the SWLondoner. 'I will never forget, I was in Berkeley Square near a fish restaurant, and I took my violin and played and recorded something from the heart.'
Since then, he has embraced the benefits of practising in this way. 'I have a half electric car and with the windows closed it becomes like a soundproof studio recording,' he said.
Read Luthier develops concept of the itinerant workshop
He has also started composing his own music, after discovering that his favourite composers - Mozart, Beethoven and Tchaikovsky - were not proving enough of a comfort. 'So I closed my eyes, I stayed in silence listening to the vibes of my heart and I started to hear a melody, my first melody, I couldn't believe it was mine,' he told the SWLondoner.
He premiered the resulting composition at a free outdoor concert that he hosted with friends in Brockley Park.
He will perform with the Hastings Philharmonic as part of a virtual concert tomorrow evening. For more information, click here.
To watch a video of Pagano playing his own composition, see below.
.