In this extract from the July 2021 issue, Simon May tells the story of his brother Marius May's withdrawal from performing life, following the cellist's immense blossoming as a teenage musical talent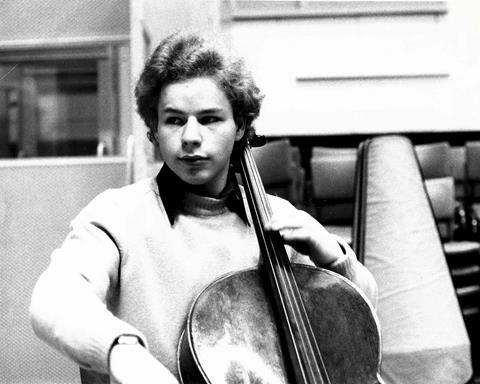 The following extract is from The Strad's July issue on Marius May. To read it in full, click here to subscribe and login. The July 2021 digital magazine and print edition are on sale now.
It was a heady time, but also a time of gathering clouds as Marius began to suffer from a profound crisis. No doubt the causes were complex, but one of them was surely his almost entirely isolated childhood devoted to practising and concerts. Our mother had taken him out of school at the age of eleven so that he could focus on the cello, a move common in her own youth, when the cult of the prodigy motivated ambitious parents to propel their wunderkinder into an international concert life, with the expectation that their careers would be well on their way by the time they were aged twelve or thirteen at the latest.
Another cause of Marius's crisis was, I think, the intense pressure on him somehow to recreate, through music, the world of Bildung (self-cultivation) and Kultur, which our mother and father had taken with them when they fled Germany in the 1930s. Our upbringing – unlike that of many other offspring of German–Jewish refugees whose parents had more readily acclimatised to life in exile – had lingered in a pre-war, pre-emigration time warp. Our father, who had escaped from Cologne in 1937, died when Marius was four years old; and our mother, who raised us on her own with iron discipline, had, in essence, refused to accept that this world had vanished once and for all.
Despite these pressures, Marius continued to grow in musical stature, and with his charm, his sense of humour and his intuition that allowed him to enter into the spirit of all manner of subjects – even those in which he had scarcely had the opportunity to be educated such as theology, history and philosophy – he prevailed. One of the greatest concerts he ever gave (and that I have ever attended) occurred during one of the hardest times of his life, when he was 29. It was at the Queen Elizabeth Hall with Imogen Cooper, and I still remember listening transfixed, along with an audience that included much of musical London but also luminaries of other fields, such as the architect Denys Lasdun, the philosopher Isaiah Berlin, the statistician and Royal Opera House chairman Claus Moser and the economist Peter Oppenheimer.
Marius's perfectionism and fastidiousness inhibited him from making more than one recording for Decca (at the age of 15 he produced a disc of Brahms, Chopin, Dvořák and Schumann with Paul Hamburger), though many of his broadcasts were captured by admirers and friends, and I expect will be issued in due course. At the end of his twenties he increasingly withdrew into solitary musical meditation, working with loving obsession on Bach in particular, at first in London and then, after his own emigration, in Israel.
Marius's decision to move to Israel had, I think, many sources: his determination to reclaim a Jewish heritage that had been obscured in our family; his love of the country, fuelled (as it was for so many Jews) by the unspeakable horrors of the Nazi period which had been experienced at first hand on both sides of our family, but especially on our mother's; his intense feeling of not being at home in England, which was the inevitable result of our upbringing – dare I say our indoctrination – as displaced German Jews, born posthumously into an alien land.
Read: Marius May: Sovereign Voice
This article was published in the July 2021 Carlo Bergonzi 'Baron Knoop' issue

Micro-CT scanning technology reveals the secrets of the 1735 Carol Bergonzi 'Baron Knoop' violin. Explore all the articles in this issue . Explore all the articles in this issue

More from this issue…