European Commission announces €600,000 lifeline for the 2016–17 season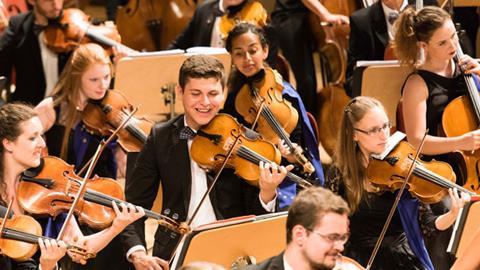 Following an international campaign, the future of the European Union Youth Orchestra (EUYO) has been secured, at least in the short term. It was announced on 1 June by Jean-Claude Juncker, president of the European Commission, that a resolution had been passed to ensure the ensemble would continue to exist.
Founded in 1976 by philanthropists Lionel and Joy Bryer and conductor Claudio Abbado, the EUYO was funded for 38 years as a European Union cultural ambassador. However, in 2014 EU backing was withdrawn from the EUYO due to a change in funding policy; only those projects falling under the umbrella of the new Creative Europe programme would receive support. The orchestra duly applied for funding from Creative Europe and received some support during 2014 and 2015. However in April 2016 that funding also ceased.
Juncker announced that for the year 2016 there would be a short-term subsidy of €600,000. In addition, he said that the provisions regarding the EUYO in the Creative Europe programme would be adjusted to provide financial support in the longer term.
'When I learned that the Orchestra had financial problems, I was very worried and I immediately asked my Commissioners to find a solution,' said Juncker. 'Together we have shown that we can find creative solutions by overcoming bureaucratic procedures when something is in the interest of our citizens. I wish the EUYO a very successful future.'
In a statement, the EUYO said: 'We welcome the recent announcement by President Juncker. The orchestra now needs to work in partnership with the Commission on the detail of this announcement to understand exactly how it might operate, and in what position such an arrangement would actually place the EUYO. We look forward to clarifying this position with the Commission at the earliest opportunity. In the meantime we give huge thanks to the quite extraordinary array of individuals and organisations throughout the world who have supported our '#SaveEUYO' Campaign.'
A number of high-profile individuals in the music world lent their voices to the EUYO's campaign. Its conductor laureate Bernard Haitink said: 'It is simply unthinkable that this beacon could be destroyed by lack of support and nurturing from the EU.' Conductor Vasily Petrenko called the news 'a catastrophic loss to the musical community across Europe'.
Photo: Peter Adamik
Subscribe to The Strad or download our digital edition as part of a 30-day free trial. To purchase single issues click here.