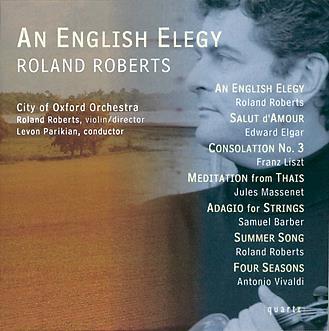 The Strad Issue: January 2007
Musicians: Roland Roberts (violin/director) City of Oxford Orchestra, Levon Parikian (conductor)
Composer: Vivaldi, Roberts, Elgar, Liszt, Massenet, Barber
The disc's title, 'Elegy', refers to a recently composed work by Roland Roberts, a piece that stylistically follows in the footsteps of Vaughan Williams, with strong connections with The Lark Ascending. It is the second of a series of four projected pieces depicting the various seasons, and creates the link back to the disc's most extensive work, Vivaldi's Four Seasons.
An earlier piece, Summer Song, for clarinet and strings is given a creamy smooth reading as the music takes us to a sleepy Suffolk village, its gently rocking character creating a peaceful and very English cameo.
With a catalogue already over-endowed with brisk, efficient and well-shaped performances of the Vivaldi, this generally pleasing account is to my ears strongly compromised by the sound quality. Apart from highlighting of solos, the balance between instruments changes so often as to create a different ambience. It is a pity, since the virile tempos and technically secure playing prove a worthy showcase for the Oxford orchestra.
The solo playing of Roberts throughout is admirable, soaring high on the fingerboard in the Elegy, while his approach to the changing moods, from Massenet's sweet and sentimental Méditation to his neat and agile Vivaldi, is equally convincing. Though the orchestra appear a rather small ensemble, the admirable and warm string quality is well suited to Levon Parikian's rather soulful reading of Barber's Adagio, and it forms a warm backdrop to the remaining 'encore' pieces.


DAVID DENTON