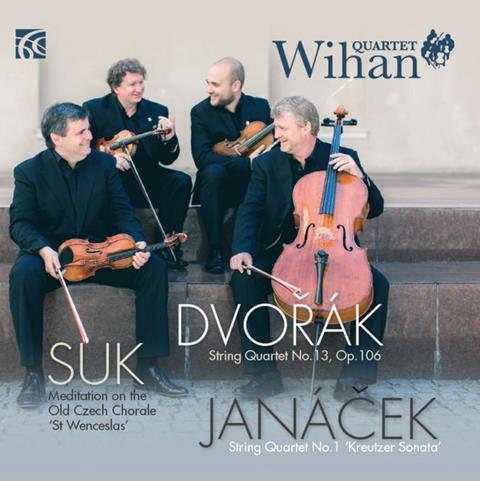 The Strad Issue: May 2016
Description: The Wihan Quartet brings symphonic space to three Czech works
Musicians: Wihan Quartet
Composer: Dvorák; Janácek
The Wihan's performance of Dvorák's Thirteenth Quartet injects passion into every bar of the opening movement, the composer's profusion of dynamic indications used to create so many tonal nuances. The extended slow movement has more weight than usual, and the Wihan refuses to rush through the scherzo, despite the composer's Molto vivace request. That in turn leaves the Allegro con fuoco finale sounding uncommonly robust and active. In summary, it is a reading of symphonic strength, though in recommending it I have to point to moments of questionable intonation.
The Janácek is a very different matter, the First Quartet raising the question as to how you would wish to enter the deranged and disorientated mind of the woman in Tolstoy's story The Kreutzer Sonata: a frightening portrayal as in the Lindsay Quartet's recording (ASV), or the more ordered version presented by the Wihan? You have here the feeling that these players do not relish making harsh sounds, but they are literally accurate in the dynamics and tempos of the score, while the interplay between instruments is perfectly ordered and weighted. I will keep the Lindsays as my library version. Suk's Meditation makes a pleasing 'encore', and the recorded sound throughout is transparent and with the required impact.
David Denton