Looking for a specific focus to your music course? Use our selection of specialist programmes to help you choose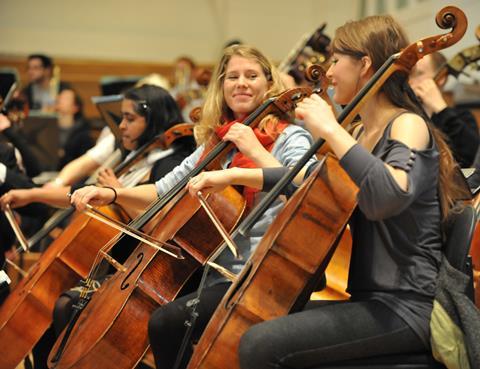 JAZZ
Berklee College of Music, US
Students can major in jazz composition or performance. The Berklee Global Jazz Institute is a performance programme led by pianist and composer Danilo Pérez, with students embarking on a mix of ensemble workshops, private study and interdisciplinary seminars.
Conservatorium van Amsterdam, Netherlands
The undergraduate jazz course covers many different styles of music, including Brazilian, Afro–Cuban, R&B, pop, funk, fusion and crossover. Ensemble work is an important component and there is an artist-in-residence programme, under which acclaimed guest artists give clinics, workshops, masterclasses and private lessons for one week at least once a year.
Guildhall School of Music & Drama, UK
At undergraduate level, BMus principal study jazz students benefit from one-toone jazz tuition, jazz musical awareness and improvisation workshops, various performance platforms and classes in jazz history and repertoire. There is also a postgraduate jazz course for 15–20 students who are preparing to enter the field as professionals.
Longy School of Music, US
Longy offers both a masters degree and a graduate performance diploma in modern American music. Students on both courses will develop advanced improvisational skills, technical proficiency and an understanding of contemporary and traditional repertoire.
University of Auckland, New Zealand
The BMus major in jazz performance includes training in performance techniques, musicianship, arranging, improvisation and working in an ensemble. Students learn from some of New Zealand's leading names in jazz, with regular student and staff jazz evenings.
MUSIC AND DANCE
Boyer College of Music and Dance, Temple University, US
Boyer College is close to Philadelphia's historic cultural institutions, including the Kimmel Center, Philadelphia Orchestra and Pennsylvania Ballet. The college also works closely with the Tyler School of Art and the Division of Theater, Film and Media Arts, providing many opportunities for interdisciplinary collaboration.
Jerusalem Academy of Music & Dance, Israel
Music students are encouraged to take part in projects that involve interaction with other disciplines, and can also attend workshops on jazz, ethnic, contemporary and early music, and opera.
Trinity Laban Conservatoire of Music and Dance, UK
Trinity Laban's recent CoLab initiative resulted in projects such as a 'moving orchestra', in which dancers interacted with musicians during a performance of music by Aaron Copland; a collaboration between harpists and dancers; and a hip hop-inspired reworking of pieces by Thomas Tallis.
University of North Carolina at Greensboro, US
The School of Music, Theatre and Dance was formed in 2010 after a merger between the previous departments of music, theatre and dance. One aim of the new school is to encourage collaboration between the performing arts disciplines, including an annual opera and musical.
Western Australian Academy of Performing Arts, Australia
The Western Australian Academy claims to offer a greater diversity of 'on-the-job' theatrical experiences than any other Australasian arts training institution. A large selection of courses and disciplines are on offer across music and dance study areas, with a mixture of practical and academic training.
CHAMBER MUSIC
Hochschule für Musik Hanns Eisler Berlin, Germany
Lessons in chamber music are obligatory on most courses and the school runs the Music Forum Gendarmenmarkt concert series. There is also a masters programme in chamber music, which aims to equip ensembles with the skills and knowledge needed to prepare for a career at the highest professional level.
Juilliard School, US
The Artist Diploma in String Quartet Studies enables an already-established string quartet to move from serious study of the repertoire towards a professional career as a teaching and performing quartet. Performance opportunities for all ensembles come in the form of seminar classes and the annual ChamberFest.
Norwegian Academy of Music, Norway
Chamber music is taught by a team of instructors from the theory and performance departments, a model that has been recognised with a National Award of Teaching Excellence. The academy runs an annual week-long chamber music festival and an annual chamber music competition, with previous winners invited to perform at the Oslo Chamber Music Festival.
Royal Northern College of Music, UK
The RNCM has a dedicated team of chamber music specialists delivering regular and structured tuition. Students develop their ensemble skills through masterclasses, coaching and performance, with tutors including former and current members of the Lindsay, Chilingirian, Talich, Takács and Š kampa quartets.
University of Texas at Austin, Butler School of Music, US
The string chamber music programme is taught by the Miró Quartet. Every group receives individual coaching with a quartet member, as well as masterclass opportunities with the quartet and visiting artists. Repertoire is wide-ranging, from Baroque to Classical, Romantic, 20th and 21st-century pieces.