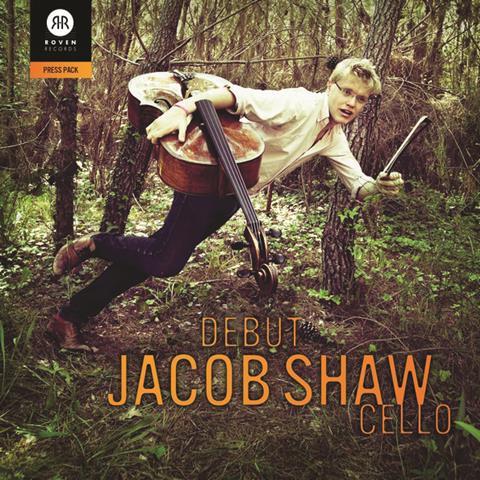 The Strad Issue: April 2016
Description: A quirky first recording for this Brit in Denmark
Musicians: Jacob Shaw (cello) José Gallardo (piano) Musicians from the Confucius Institute
Composer: Bloch; Brahms; Britten; Casals; Trad; De Wallensbourg; Wang Liping
This is a rather unusual recording debut. The first disc, of Brahms's two cello sonatas, was made in 2009 after Jacob Shaw won the French Banque Populaire competition. The second (unaccompanied except for the closing number, Wang Liping's Song of the Burial of Flowers) was then recorded at intervals up to 2015.
London-born Shaw, a Menuhin School pupil who went on to study in Paris, has lived in Denmark since 2012. His is 'classical' Brahms rather than a big, 'romantic' interpretation. 'Fragility' is one of the words he uses to describe the music, and indeed the First Sonata's Menuetto is almost fairy-like, its trio a delicately woven chromatic line. Shaw achieves a mood of spellbinding repose in Brahms's tranquillos and finds true poetry in the Second Sonata's Adagio affettuoso. There are some quirky tempo changes but the sound is excellent, with a clear-cut quality and every tonal nuance audible.
Britten's Third Suite opens the second disc. This is a mature interpretation, with the ring of truth to it. Shaw's cello is heard to advantage in the slightly resonant acoustic and his extensive double-stopping is clear and true. The quicksilver mood changes in the Allegro marcia are dazzlingly effective and Shaw again finds a particular beauty in tranquillo sections.
The remaining tracks are a nod to Shaw's interest in world music and its influences, from the Scottish fiddle tune that breaks excitingly into a Danish folk melody in A Brit in Denmark, to the sound of the Persian four-stringed kamancheh. In the final track, Shaw's cello soars powerfully above the zither-like twanging of traditional Chinese musicians, bringing to a close a quirky but rewarding package.
Janet Banks