This article from The Strad, September 1954, argues that the trend among students of pursuing mechanical brilliance at the expense of beauty of tone is misguided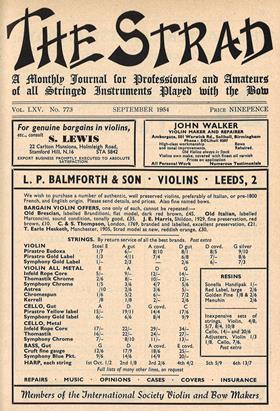 This is an age of mechanical perfection. We strive to attain it in every part of our lives. There are gadgets for cooking, motoring, gardening, and every sort of amusement. It has invaded the Arts, and great injury has been done to Music and the Drama. Slick machine-made films and easily turned on radio concerts seem to take all effort out of a search for satisfying beauty in which we can take part, either as audience or players.
This seems to have a curious effect on the violin students of the day. Hours and hours are spent on striving to reach that stage of technical ability wherein the fingers of the left hand have been driven to an automatic brilliance far beyond the musical development of the student. It is on this technical brilliance or its absence that a student is judged by his fellows. A budding Paganini is far more admired than a Ysaye. Beauty of tone is often missing.
It may be that the increase in the use of all metal strings, owing to the high cost and fragility of real gut, has accentuated the hard brilliance of some young players at the expense of depth of tone. Or it may be a dread of being thought 'soft' in the self-assured atmosphere prevalent in England at the moment. Certainly we seem to get more lyrical playing on the Continent, particularly in Switzerland and France.
Our young players are clever, full of fire and self confidence, but the poetic touch and the purity of tone which can come from one violin and fill the largest concert hall with a sustained grandeur are so often just not there. The art of bowing has been, in many cases, turned into the poor relation of the excited fingers of the left hand – they must be supplied with endless scratchy wrist strokes or exaggerated spiccato by the right hand to show off their cleverness.
It would be an interesting experiment if all examinations and competitions set just one piece of long sostenuto notes. This would need flowing steady bowing, perfect smoothness in the change of direction, and a complete absence of emotional bulges in the middle of the bow. Phrasing, and variety from loudness to the merest whisper would form an important part of this test, and the player would be expected to produce from his instrument its greatest musical beauty, a lovely tone.
A budding Paganini is far more admired than a Ysaye
Probably Kreisler did more than most soloists to relegate technical ability to its right place in musical interpretation. No one has a greater facility of technique than he, but he seems to throw it off as a pleasant amusement, played without undue force and pressure. Then he changes to that amazing singing tone, effortless and pure, for which he is so famous.
His playing of the Beethoven Concerto was a joy throughout, but the greatest moment of sheer inspiration was his playing of the simple inevitable melody after the cadenza in the first moment. In a way the title of this article is wrong. Of course the word Technique should include the art of bowing and this should give good Tone.
But I have used the word in its more usual way, and have written chiefly about violin playing. Curiously enough the craze for rapid aggressive playing has been caught by pianists too, but here it is more difficult to describe the production of pure tone, apart from the finger touch. With a violin and bow in our hands we should understand the meaning of full, pure liquid sound and the way to produce it.
Probably orchestral string players are the most faithful to the tradition of playing with a pure, free tone. Here English violinists are second to none; and living composers have given them some glorious music, to which they can give of their best. Vaughan Williams's Fantasia on a theme by Thomas Tallis, and Samuel Barber's Adagio for strings are worthy companions of Bach and Brahms in their demand for the inexplicable fullness of tone lying hidden in our mysterious instruments – only to be given to the world by real musicians.
Subscribe to The Strad or download our digital edition as part of a 30-day free trial