Growing numbers of musicians are speaking out against bad audience behaviour, finds Charlotte Smith
This article was originally published in March 2014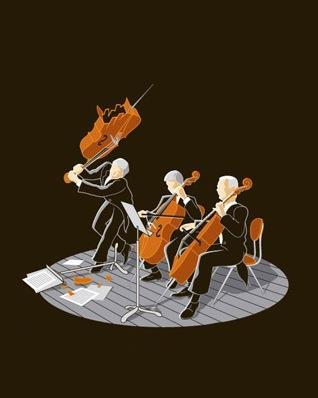 The subject of audience etiquette has long been a cause of controversy. Are performers too precious and remote if they fail to see the funny side of the man snoring in the front row? Does the expectation that audiences not clap between movements alienate the new and uninitiated? Or are performers right to demand that not even a sniffle emanate from an assembled throng of several hundred? After all, music, more than any art form, is about the aural experience – and for the soloist, competing with coughing and chatter can't be fun.
Regardless of your views, the number of performers who are speaking – or acting – out against bad audience behaviour is growing. With this in mind, here are six ways to avoid a soloist meltdown...
1. Turn off your phone or risk ritual humiliation
Despite Leonard Slatkin's headline-grabbing request that 'audiences turn on their phones' at a recent Detroit Symphony Orchestra concert – an effort to encourage photography and to present the orchestra as 'the most accessible on the planet' – for most conductors and soloists, mobile phones are, at best, an irritation and, at worse, cause to flounce off the stage.
In January 2012 when a mobile phone began ringing during a New York Philharmonic performance of Mahler's Ninth Symphony, music director Alan Gilbert stopped the performance and asked the unknown offender to turn off the phone.
'Nothing happened,' Gilbert later explained. 'Nobody was owning up to it. It was surreal.' Audience members began pointing out a couple in the front row, but the two simply 'stared resolutely' at Gilbert, refusing to admit their guilt. Eventually, the man put his hand in his pocket and the ringing stopped. 'It was so weird,' said Gilbert. 'Did he think he could just bite his lip and soldier through?'
Evidently his fellow audiences members did not, as shouts of 'thousand-dollar fine', 'kick him out' and 'get out' rang through the auditorium.
Taking a more humorous approach was Slovakian violist Lukas Kmit, who recognised the perfect opportunity for a little gentle humiliation when a Nokia ringtone interrupted his solo performance at a Jewish Orthodox synagogue in 2012. Rather than halt his performance, the violist smiled and proceeded to improvise on the all-too-familiar tune, a response which earned chuckles and applause from the audience – and worldwide recognition when a video of the performance, uploaded to YouTube, was picked up by the international media.
2. Don't film the performance
Artists tend to have a mixed reaction to YouTube. On one hand it can provide valuable exposure, but on the other, free videos of performances can detract from a musician's income, as cellist Zoë Keating demonstrated when she published figures of her 2013 digital earnings at the end of February. Sitting and filming a performance is liable, therefore, to make the artist nervous.
A member of the audience filming Krystian Zimerman at a performance in 2013 caused the pianist to walk offstage. He returned shortly afterwards, explaining that he had lost many recording projects and contracts because music managers had told him, 'We're sorry, that has already been on YouTube'. 'The destruction of music because of YouTube is enormous,' he added.
Violinist James Ehnes took a less direct approach following a similar filming incident in August 2013. Taking to his Facebook page he asked his followers:
'At my concert yesterday (Brahms concerto in Curitiba, Brazil) a young man in the second row filmed my entire performance on his iPhone. I'm curious to know how people feel about this.'
The response was largely condemnatory...
3. Try not to clap the second the music finishes
The concert-going know-it-all, who simply has to demonstrate his superior knowledge of the repertoire by being the first to clap a millisecond after the final note sounds, has been satirised by a number of artists and journalists, including Time Out magazine's former classical editor Jonathan Lennie, who wrote an open letter to the 'Loud Clapping Man Who Sits Behind Me At Concerts'.
Irritation aside, the premature clapper can also ruin the effect of a work's profound conclusion. 'I am bothered by those rare times when people feel the need to rush in to applaud at the final note of a piece without regard for the mood if it is a quiet ending,' said Baltimore Symphony music director Marin Alsop.
Similar know-it-all honourable mentions go to those audience members who insist on following a pocket score throughout the performance, or backseat conductors, who feel the need to gesticulate wildly to the music from their auditorium seat.
4. One cough drop is never enough
At a Chicago Symphony Orchestra performance of Mahler's Ninth in November 2013, Michael Tilson Thomas dealt with a coughing and spluttering audience by disappearing backstage only to return with two handfuls of cough drops, which he proceeded to throw into the crowd. He said he hoped that would solve the problem and encouraged audience members to pass them to those in need. A CSO spokesperson later noted, 'the audience responded in the same good-natured spirit, with laughter and applause'.
5. No matter how much you dislike the interpretation, heckling the artist is bad form
In November 2011 during a performance of Bruckner's Fourth Symphony by the London Philharmonic, a frustrated audience member stormed out, shouting 'terrible', 'too slow' and 'rubbish'. The outburst was described by eyewitnesses variously as 'a disturbance which managed completely to break the spell of the performance' and 'just plain weird'.
However, others sprang to the man's defence, and the offender himself later took to the internet to justify his actions, pointing out a historical precedent for heckling at concerts, which was common practice in the 18th, 19th and early 20th centuries.
Be that as it may, heckling can only ruin the concert experience, not only for your fellow audience members, but also for the artists on stage, who more often than not – and no matter whether you agree with their interpretation – have spent a good many hours in rehearsal and practice leading up to the performance.
6. Get enough sleep before the performance
Following a 2003 performance of Dvorák's Cello Concerto with the Scottish Chamber Orchestra in Prague, soloist Steven Isserlis expressed his annoyance at a snoozing man in the front row by lobbing his bouquet of flowers at him.