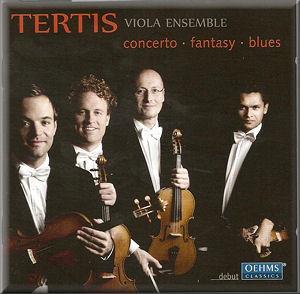 The Strad Issue: January 2011
Description: A valuable first disc from a recently formed quartet of violas
Musicians: Tertis Viola Ensemble
Composer: Telemann, Weinzierl, Bowen, Bartók, Piazzolla & Norton
Who would have thought that a viola quartet named after Lionel Tertis would be founded not in England but in Bavaria? Four members of the Munich Philharmonic (three Germans and a Honduran) got together in 2008, and this is their first recording. As befits a 'calling card', the CD is well varied: the repertoire runs from Telemann's Concerto a 4 – straight transcriptions from the violin – to Piazzolla's Four for Tango, where the compression from the original for string quartet is skilfully managed. The two original works included are Max von Weinzierl's Nachtstück and York Bowen's Fantasie. Hailing from the turn of the 20th century (the latter was actually premiered by Tertis and his class), both make full use of the viola's register, so that one never misses the lower octave.
The Tertis Viola Ensemble is certainly a group to be reckoned with: sound production and vibrato are perfectly matched, and the four instruments contrast nicely with each other (it would be interesting to know what they are). Their Telemann is historically informed, and Piazzolla's 'special effects' sound quite authentic. I do wish, though, that the players had found a lighter touch for the elfin sections of Weinzierl's nocturnal piece, but the impression of heaviness is probably be down to the extremely close and resonant recording.


Carlos María Solare