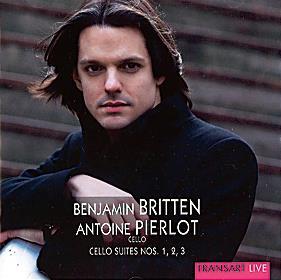 The Strad Issue: January 2013
Description: Mixed results in a centenary tribute to Britten
Musicians: Antoine Pierlot (cello)
Composer: Britten
French cellist Antoine Pierlot offers persuasive accounts of Britten's three solo suites in a clear recording taken from a live concert. There are some movements, however, in which a more discernible line could have been achieved, although the letter of the printed score is always followed scrupulously. Of course, it is often a question of going beyond the instructions. For example the marcato section of the Fuga in the First Suite sounds a little dislocated, while the voicing of the Fuga in the Second Suite needs to be more obvious, as the musical argument can seem a bit fragmented.
There are also a few occasions where a more dramatic characterisation could have highlighted the invention: in particular a greater sense of anguish is needed in the climaxes of the opening Canto and Lamento in the First Suite. Pierlot, however, is extremely impressive in the Bordone of the same suite, masterfully controlling a piano D, while threading the thematic ideas appear above and below the note and evoking the childlike simplicity of the folk song.
The ensuing Molto perpetuo is brilliantly fleet-footed and equalled by the Ciaccona of the Second Suite, which is fantastically bold and lucidly conveyed with a great range of articulation and dynamics. Pierlot is especially evocative in the Third Suite, encapsulating the naive simplicity of 'Autumn' as well as the more melancholic hues of the Kontakion.


Joanne Talbot