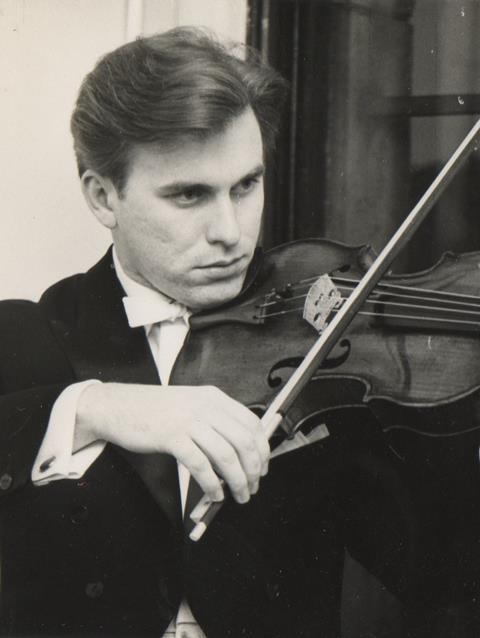 Roger Best, who was principal viola in the Northern Sinfonia and a member of the Alberni Quartet, died on 8 October aged 77 after a long illness.
Over the course of a multifaceted career Best made his living as an orchestral player, soloist, chamber musician, recording artist and teacher. John McCabe, Sir Malcolm Arnold and Sir Richard Rodney Bennett all wrote concertos for him and he held professorships at the Royal College of Music, Royal Academy of Music and the Royal Scottish Academy (now the Royal Conservatoire of Scotland).
The Anthology of British Viola Players described Best as being 'a case where talent will out' – a summation endorsed by Best's daughter, Sian Best, who writes:
'My father's father, who was not a musician but who was intensely interested in music, was determined to give his son – my father – the chance he himself had missed out on. Together they studied the rudiments of violin playing from a tutorial and after six months my father began lessons with a real violin tutor, for which my grandmother scrimped and saved. He must have been talented at a young age, for when my grandparents could no longer afford to pay for lessons his teacher continued to teach him free of charge.'
Best won a scholarship to the Royal Manchester College of Music (now the Royal Northern College of Music) to study viola with Paul Cropper. 'There he boosted his grant by playing gigs on tenor saxophone and guitar in a dance band, and even learned the double bass at short notice so that he could earn money over the summer,' writes Sian. 'Summer seasons and tours of the south coast with professional orchestras gave him a solid grounding in the life of a musician and a fabulous salary. They also brought the thrill of being able to buy smart, fashionable clothes and shoes.'
On graduating Best was invited by Sir John Barbirolli to join the Hallé, and he played with the orchestra for two years before being appointed principal viola for the Northern Sinfonia in 1961. During this period he began to perform more as a soloist and the Northern Sinfonia commissioned two concertos for him – from Sir Richard Rodney Bennett and Sir Malcolm Arnold, both of which were well received. A recording of the Arnold concerto was made in 1971, with the composer conducting. In 1977 he joined the Alberni Quartet and went on to record the Brahms string sextets with the ensemble. Over the course of his life he made numerous recordings, including Britten's Lachrymae for viola and string orchestra and Vaughan Williams's Flos Campi.
Ever the professional, Best approached each musical project with a combination of consummate expertise and levelheadedness: 'In later life he recalled arriving at a session with Neville Marriner for the Academy of St Martin in the Fields, not having been told they were recording the Brandenburg Concerto no.6,' writes Sian. 'Having been used to playing first viola in the Northern Sinfonia, here he had to play second viola. He sightread the run-through and it was recorded in one take.
'His calm, gentlemanly and laid back attitude concealed a stubborn and relentless perfectionism and an awareness of the potential and possibilities that could be realised with hard graft. He also played croquet at national championships level – a game that suited his temperament well, combining as it does courtesy with a killer instinct.'
He married twice and is survived by five children and nine grandchildren.
Roger Best, violist and teacher: born 28 September 1936; died 8 October 2013.
Photo courtesy Sian Best
Subscribe to The Strad or download our digital edition as part of a 30-day free trial.