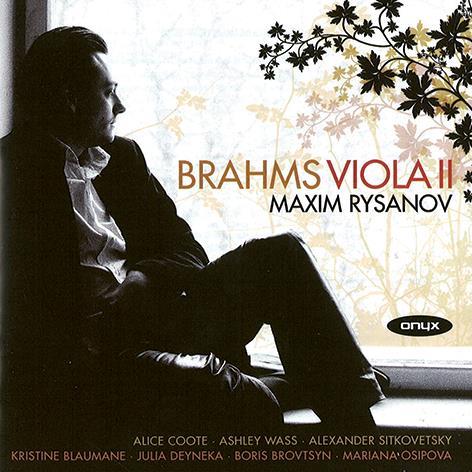 The Strad Issue: January 2011
Description: Maxim Rysanov completes his survey of Brahms's chamber music with viola
Musicians: Alexander Sitkovetsky, Mariana Osipova† , Boris Brovtsyn* (violin) Maxim Rysanov, Julia Deyneka (viola) Kristine Blaumane (cello) Alice Coote (mezzo-soprano) Ashley Wass (piano)
Composer: Brahms
If I did not already love the viola, I suspect this disc of mainly late Brahms would seduce me to its cause. Ukrainian violist Maxim Rysanov makes the best fist on CD so far of the viola version of the Clarinet Quintet, given a traditional interpretation, using the slow start to the Allegro sanctioned by the composer. The other players prepare beautifully for the Hungarian episode in the Adagio, the one obvious place where the viola cannot match the clarinet's hard edge.
In the two songs, Rysanov relishes the lower tones of his 1780 Giuseppe Guadagnini, which makes it all the more regrettable that Alice Coote cannot sit on her low notes like a contralto. She sings very nicely in a lighter fashion and the pianist is excellent.
There is more lovely, supple string playing, in a palpably less warm and ingratiating acoustic than that used for op.115, in the G major Quintet (the quintets were recorded a year apart in Moscow with different second violins, the songs in England). It is a passionate performance, even tough in places, although the lilting second subject of the Allegro still swings. The Adagio is beautiful, the Allegretto wistful, the finale robust.



TULLY POTTER