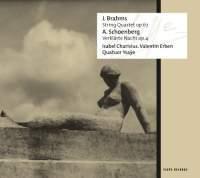 The Strad Issue: January 2013
Description: A warmly played coupling of two Viennese classics
Musicians: Ysaÿe Quartet, Isabel Charisius2 (viola) Valentin Erben2 (cello)
Composer: Brahms, Schoenberg
It was Schoenberg who recognised the progressive in Brahms in his famous centenary tribute, so the two composers make an apt match on disc. Here, though, we find both in backward-looking mode, Schoenberg, for all the novelty of inventing the chamber-music tone poem, to the chromaticism of Wagner's Tristan of a generation earlier, Brahms to his Viennese forebears in the most direct and joyous of his three quartets.
There's certainly plenty of Classical poise in the Ysaÿe Quartet's account of Brahms's op.67, combined with an energetic kick that gives the first movement, in particular, a real sense of fun (not a common Brahmsian attribute). Violist Miguel da Silva shines in his extensive solos in the Agitato third movement and the final variations are played with great charm.
For Schoenberg's sextet (and how refreshing to hear the work for once in its original form) the Ysaÿe absorbs its two guest musicians as members of the same family for an interpretation that lays bare the emotions and transformative psychology of Richard Dehmel's poem. There's some especially fine pianissimo playing here, but also an eruptive power to the music's climaxes.
The recording, made in the dormitory of a provincial French abbey, is close but sympathetic, and the release is plushly presented in miniature book form with extensive analytical essays on the music.
MATTHEW RYE