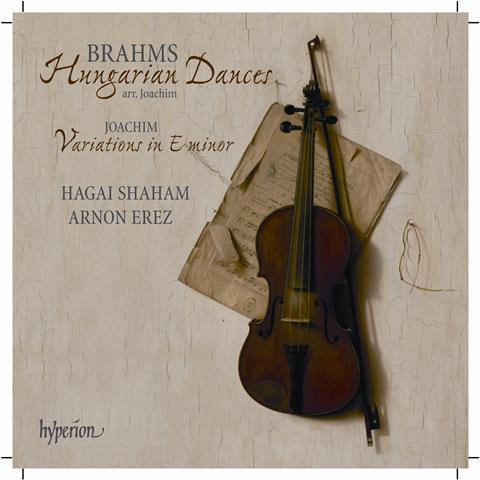 The Strad Issue: January 2008
Musicians: Hagai Shaham (violin) Arnon Erez (piano)
Composer: Brahms, Joachim
The most important work here is the one advertised in smaller type on the cover, Joachim's E minor Variations, a magnificent assemblge of an introduction, a theme and 18 brief variations followed by a finale introducing a new theme. It should really be heard with orchestra – Ricardo Odnoposoff's old recording is on CD (Doron) – but the piano is a fair substitute. With one small reservation, Hagai Shaham and Arnon Erez rise nobly to its challenges.
The Variations have a few Hungarian tinges and when it comes to the Brahms Hungarian Dances, I unashamedly prefer Joachim's versions. Leaving aside the Piatti arrangements played by that wonderful cellist Nancy Green (JRI or Biddulph), the competition consists of Marat Bisengaliev (Naxos) and two veterans, Oscar Shumsky (Musicmasters, to be issued here by Nimbus) and Aaron Rosand (Biddulph). Shaham shapes up pretty well.
I do, however, find him and Erez a little heavy-handed and predictable here and there. Two or three of the more popular dances sound like the proverbial pitchers that have gone once too often to the well. In many of the lesser-known dances, Shaham plays with delightful variations of tone colour, volume and rhythm.
I note patches of slightly dubious intonation in about half a dozen dances and just a few of the Variations. If this aspect is likely to bother you, go for the comparatively inflexible Bisengaliev. The most consistently musical of all is Shumsky, but with him and Rosand there are also tiny tuning niggles. Shaham and Erez are very well recorded.
TULLY POTTER