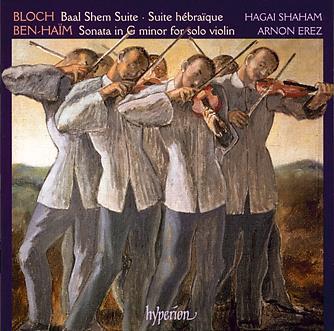 The Strad Issue: January 2007
Musicians: Hagai Shaham (violin) Arnon Erez (piano)
Composer: Bloch, Ben-Haim
Bloch's music invariably builds out of extreme contrasts: one minute quietly meditative, the next devotedly impassioned. He is not a composer particularly given to light touches or major-key frivolity – indeed it sounds much of the time as though the weight of the world is on his shoulders. Hagai Shaham possesses the ideal kind of silver-toned, narrow-vibratoed purity to make these occasionally melodramatic pieces ring true. Rather than fall back on a well-upholstered, opulent sound, he streamlines his tone, adding a special kind of intensity to Bloch's soaring climaxes.
Shaham strikes just the right balance between interpretative cool and swashbuckling bravado in Baal Shem, whose second movement – the popular Nigun – can sound decidedly over-wrought in the wrong hands. If the Suite hébraïque mines much the same stylistic and emotional terrain, the two solo suites, written for Yehudi Menuhin, are less overtly expressive, their not inconsiderable emotional power being contained beneath a veneer of Hindemith-like neo-Classicism. They are difficult to bring off convincingly, yet Shaham sounds completely in his element, bringing warmth and sparkle to music that can easily seem cold and unyielding.
Born 17 years later than Bloch, in 1897, Paul Ben-Haim is another composer whose music was inspired by the sounds of oriental Jewish folk music. If Bloch's essentially post-Romantic outlook might be aligned with Kodály's work in Hungary, then Ben-Haim is closer to Bartók in terms of his rhythmic zest and more elastic approach to the tonal system. Shaham sounds right inside this elusive idiom and the recording is excellent throughout.
JULIAN HAYLOCK